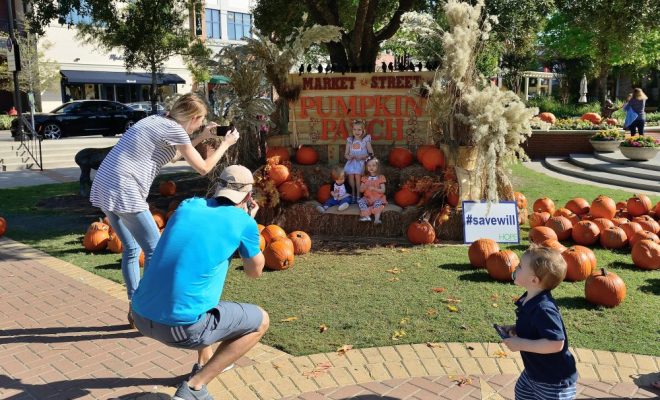 Lifestyle
Local Pumpkin Patches
By |
It's that time again! Fall is here and so are the pumpkins. There are several nearby locations to visit for pictures, memories, and that perfect pumpkin.
Market Street – Back again this season, Market Street invites families to a pumpkin patch in Central Park to celebrate fall on Saturday, October 26. The pumpkins will be available while supplies last during Market Street's business hours: 10:00 a.m. – 9:00 p.m.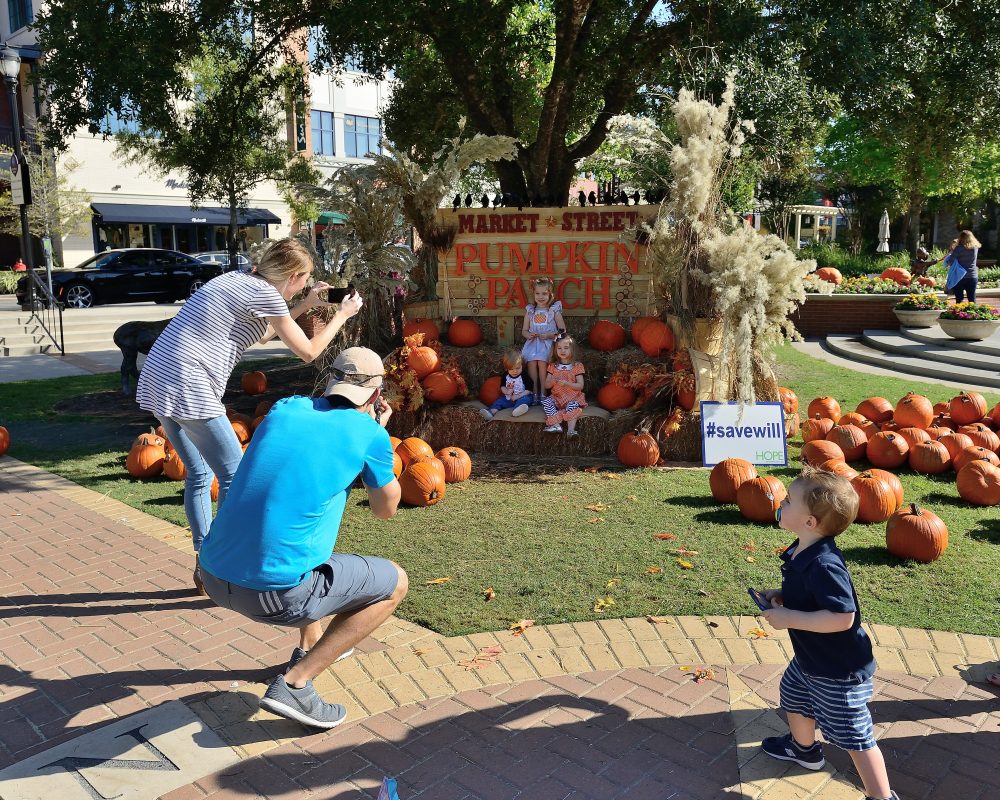 Christ Church United Methodist Church – Located in the courtyard of the church, this quaint little patch is open daily from 9:00 a.m. – 7:00 p.m., October 12 to October 31. The courtyard is decorated with benches and fall scenery, and is the perfect size for bringing little ones.
Dewberry Farm – It's the 18th year of Texas-sized fun at Dewberry Farm, open for pumpkin picking from September 28 to November 10. In addition to favorite attractions such as the corn maze and pumpkin patch, there will be wine and beer available for purchase in the BierGarten this year.
Magnolia's First Baptist Church – Magnolia Church's pumpkin patch is open daily from October 15 – 31 from 2:00 to 7:00 p.m., with food and activities (hay rides, punkin' chunkin' and photo opportunities) on the weekends. The church's annual fall festival will be held Saturday, October 26th from 2:00 – 5:00 p.m.
P-6 Farms – P-6 Farms, located in Montgomery, is a family-run farm stocked with acres of pumpkins. Every fall P-6 Farms has a pumpkin patch, farm fall festival, games, and activities. New this year is a flower patch where visitors can take pictures and pick their own Zinnias and Sunflowers. The farm has a two corn mazes, one small and one large, that are cut from 8 total acres of corn. There is a concession stand with picnic tables so guests can make a day out of their trip to P-6. Pumpkins are available September 28 – November 9.
Texas Oil Ranch – Texas Oil Ranch puts out thousands of pumpkins daily during its Scarecrow Festival & Pumpkin Patch in October, when the ranch is open 7 days a week for the entire month. Each child 12 & under receives a free pumpkin with paid admission. Texas Oil Ranch is a 56-acre amusement park and event venue that offers a hands-on experience at a working ranch through a variety of activities and events. During October there are hay rides, scarecrow scenes featuring more than 85 scarecrows, and thousands of pumpkins piled high for photo ops. All the regular ranch activities are open during the festival and included at no extra charge.
Old Time Christmas Tree Farm – Don't be fooled by the name – for the month of October this entire farm is a pumpkin patch! Once inside, purchase pumpkins or tickets for one or more of the farm's eight attractions. Enjoy some food, shaved ice, and funnel cakes in the picnic area, and take some great photos of family and pets. The pumpkin patch is open Fridays starting October 4th from 4:00 – 7:00 p.m., and Saturdays and Sundays in from 10:00 a.m. – 7:00 p.m. Be sure to bring a wagon to transport your pumpkins.
First Christian Church Conroe – The pumpkin patch at First Christian Church Conroe is open October 12 – 31 from noon until 6:00 p.m. Admission is free and the pumpkins are priced according to size. There are many picture taking opportunities in the decorated pumpkin patch.
Faith United Methodist Church – The church's pumpkin patch is open from September 30 until October 31. The 25th Annual Pumpkin Fest will be held Saturday, October 26 from 10:00 am to 3:00 pm. All proceeds collected during the fest and patch directly support the missions and ministries of Faith UMC. Come out and enjoy fall arts & crafts and games, purchase goodies at the fall bake sale, and pick the perfect pumpkin for carving.
7 Acre Wood – 7 Acre Wood's pumpkin patch is open all throughout October. Pumpkins are priced according to size. There are hay rides, pony rides, a petting zoo, and more fun all month long.
Cypress United Methodist Church – The Cypress United Methodist Church Pumpkin Patch is open daily from October 4 to November 1 from 9:00 a.m. – 7:00 p.m. There will be a movie in the patch October 11 (The Lego Movie 2: The Second Part), and a festival in the patch October 27 from 5:00 – 7:00 p.m. Entrance is free and guests may bring a picnic to enjoy in the patch. Purchase pumpkins and homemade baked goods, then take pictures among the decorations set up all throughout the patch.