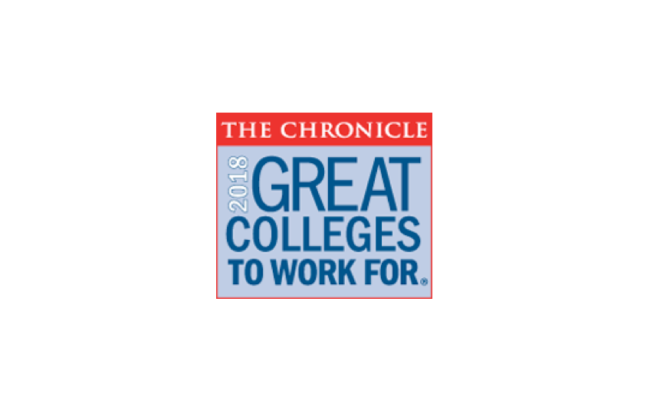 News
Lone Star College designated 2018 Great Colleges To Work For
By |
HOUSTON, TX – For the second consecutive year, Lone Star College was named a 2018 Great Colleges To Work For® by the Chronicle of Higher Education in partnership with ModernThink, LLC.
"Lone Star College has worked very hard over the last several years to nurture a culture that values and respects all employees," said Stephen C. Head, Ph.D., LSC chancellor. "This philosophy helps us focus on student success."
The Chronicle of Higher Education gathers data directly from employees about what makes their institution a great place to work and provides senior-level administrators and academic leaders with insights on the quality of the workplace experience and the competitiveness of their policies and benefits.
LSC was recognized in nine categories: Collaborative Governance; Confidence in Senior Leadership; Diversity; Facilities, Workspace & Security; Job Satisfaction; Professional/Career Development Programs; Respect and Appreciation; Teaching Environment; and Work/Life Balance.
Lone Star College was also named to the Honor Roll, one of only four two-year colleges to be cited most often across all recognition categories.
The Chronicle's 2018 Great Colleges to Work For®  survey is based on responses from more than 53,000 people at 253 institutions: 165 four-year colleges (95 private and 70 public) and 88 two-year colleges. Of the responses received, more than 7,500 were from administrators, 18,103 from faculty members, more than 15,000 from exempt staff members, more than 1,300 from adjunct faculty members, and about 11,300 from nonexempt staff members in lower-paid job categories.
LSC began its LSC 20|20 initiative in 2015 to create a culture of accountability and achieve its key organizational results. LSC 20|20 "empowers stakeholders to develop cultural beliefs and provides tools to create experiences that result in actions leading to key results."
"This recognition from the Chronicle of Higher Education is a direct result of the culture we have built," said Head.
LSC also received the prestigious 2017 Ozzie Award for Excellence in Education from Partners in Leadership, a leading global consulting firm earlier this year. This award recognizes organizations that have achieved impactful results in accountability, leadership and culture in education.
Lone Star College offers high-quality, low-cost academic transfer and career training education to 99,000 students each semester. LSC is training tomorrow's workforce today and redefining the community college experience to support student success. Stephen C. Head, Ph.D., serves as chancellor of LSC, the largest institution of higher education in the Houston area with an annual economic impact of nearly $3 billion. LSC consists of six colleges, eight centers, two university centers, Lone Star Corporate College and LSC-Online. To learn more, visit LoneStar.edu.