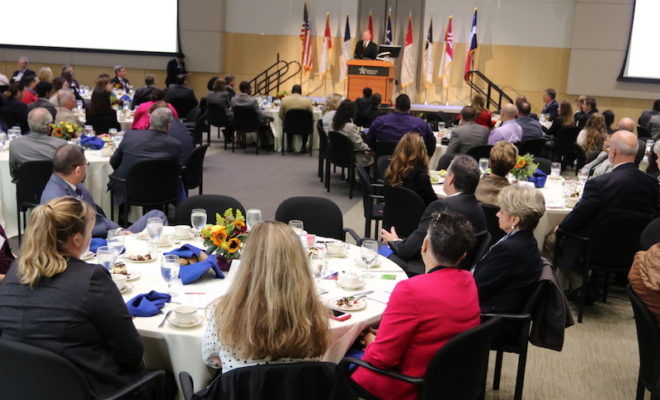 Business
Lone Star College – SBDC "salutes" Small Businesses at Luncheon
By |
The Lone Star College-Small Business Development Center (SBDC) hosted their Small Business Salute Luncheon on Thursday, November 9 at the Lone Star College Community Building in The Woodlands.
The SBDC is a management assistance program of the U.S. Small Business Administration in partnership with the University of Houston and Lone Star College. The center's highly-qualified consultants help businesses evolve to the next level and better compete in today's global economy. The LSC-SBDC works closely with area chambers of commerce, economic development councils and existing businesses in north Harris County and Montgomery County to help businesses thrive.
Before the luncheon, Jenny Kelley of Hello Woodlands talked with Miguel Lopez about how the Small Business Development Center works with small businesses in our community. Watch the interview on our Facebook page!
Presented by BBVA Compass Bank, luncheon celebrated the resilience and success of small businesses throughout the Lone Star College service area. The luncheon included:
Networking with Community Leaders and Small Business Owners
Welcoming words and an explanation of SBDC services shared by Miguel Lopez, Executing Director of Lone Star College – Small Business Development Center
A message from Dr. Stephen C. Head, Chancellor of Lone Star College
Key Speaker, Tim Jeffcoat of the Small Business Administration's Houston District Director, shared information about the SBA and ways that the organization
The SBDC has helps small businesses at no cost and provides consulting that equals the value about $300 per hour. The SBDC has helped small businesses and their clients…
Create 5,333 New Jobs
Save 2,385 Jobs
$192.2 million in start up and expansion capital
$44.7 million in additional taxes
$368.1 million in new sales
$10.25 returned on every $1
Employment growth increase 25.4% (versus 2.4% for average Texas businesses)
Sales growth increase 20.3%(versus -1.4% for average Texas businesses)
Tim Jeffcoat shared how the Small Business Administration works with small businesses and how they provided support after Harvey:
Over $2 billion giving in disaster loans, including approximately 1,500 business loans worth $150 million and 24,000 home loans worth $1.9 billion
Provided assistance at 57 Disaster Recovery Centers
Provided assistance at 5 Business Recovery Centers (2 in the Houston metro area) including 2302 Fannin St, Houston and 5855 Sienna Springs Way, Missouri City.
The SBA provided assistance and business loans up to $2 million for all size businesses, most private non-profits, for damages, for economic injury, 3.305% or 6.61% interest for damages, 3.3055 for EIDL, and 2.5% for non-profits.
The SBA is accepting nominees for the SBA Small Business Awards until January 9. To learn more visit sba.fov/nsbw/awards.
For more information about the Lone Star College – Small Business Development Center plus how to start and grow your business, visit LoneStar.edu/sbdc.
View photos from the event on the Hello Woodlands Facebook page!