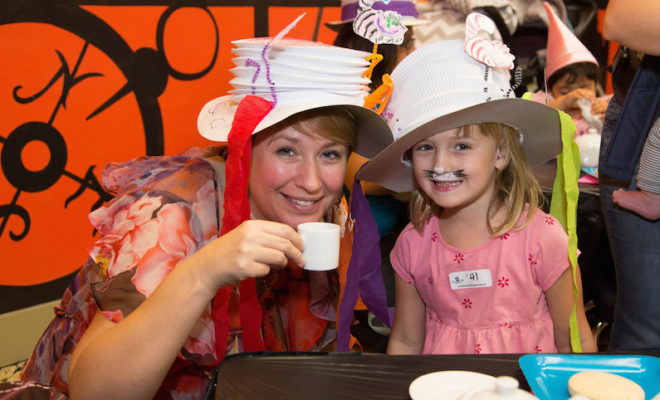 Calendar
A Magical Mad Hatter Tea Party at Children's Museum
By |
THE WOODLANDS, TX – -– After Alice tumbled down the rabbit hole in Lewis Carroll's classic tale, "Alice in Wonderland," she encountered a world where being silly was perfectly acceptable, even expected. The Woodlands Children's Museum will give children a taste of that magical world on Friday, Oct. 6, when it hosts a Mad Hatter Tea Party.
Mad Hatter Tea Party activities are scheduled for 10 a.m. to 2 p.m. at 4775 W. Panther Creek Drive, Suite 280. During that time, children can make their own Mad Hatter hats before decorating cookies and taking tea with Alice and The Mad Hatter. Children also can pose for pictures in their hats, join a tea cup craft in the Muse (art area), and hear a reading of "Alice in Wonderland" in the stage area.
""In the Wonderland that Lewis Carroll created, almost anything can happen,"" said Angela Colton, executive director of the museum. ""Our tea party gives children a way to step into that place and imagine the 'curious' world that Alice experienced.""
Honored guests at the museum Oct. 6, in addition to the Mad Hatter, will include Alice and the Queen of Hearts. The museum has scheduled "Alice in Wonderland" readings for 11 a.m. and noon.
From 10:30 a.m. to 1:30 p.m., Susan Blackmore will offer face painting (available for $25 per hour). Little "teetotalers" can join a Talking Door Knob project in the face-painting room while they wait for their turn.
Children must be accompanied by an adult at all times during these activities. While there will be no room for strollers at the tea party, a free "stroller" service will be available to park strollers in a safe place.
The Mad Hatter's Tea Party is included in the museum's $6 admission for children ages 1 and older.
For more information, visit woodlandschildrensmuseum.org or call 281-465-0955.