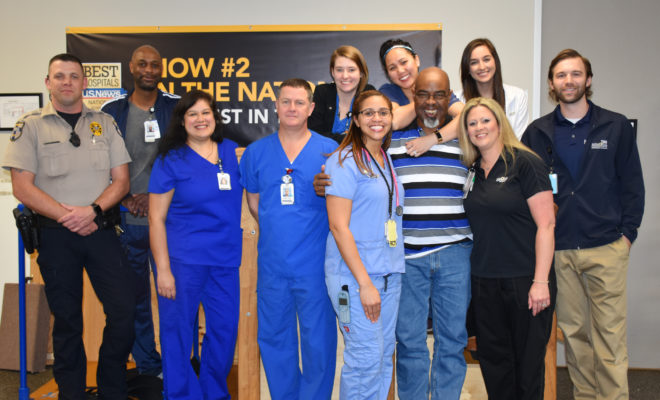 Health
Man Survives Massive Heart Attack Thanks to Teamwork
By |
THE WOODLANDS, TX – Raymound Manuel believes he's alive today based on one thing: teamwork. The 57-year-old man had gone in for a stress test at Memorial Hermann The Woodlands Medical Center back in September 2018, but once he completed it, things took a sharp turn.
"I remember saying 'I don't feel good,' and then I passed out. I only know what people tell me after that," says Manuel.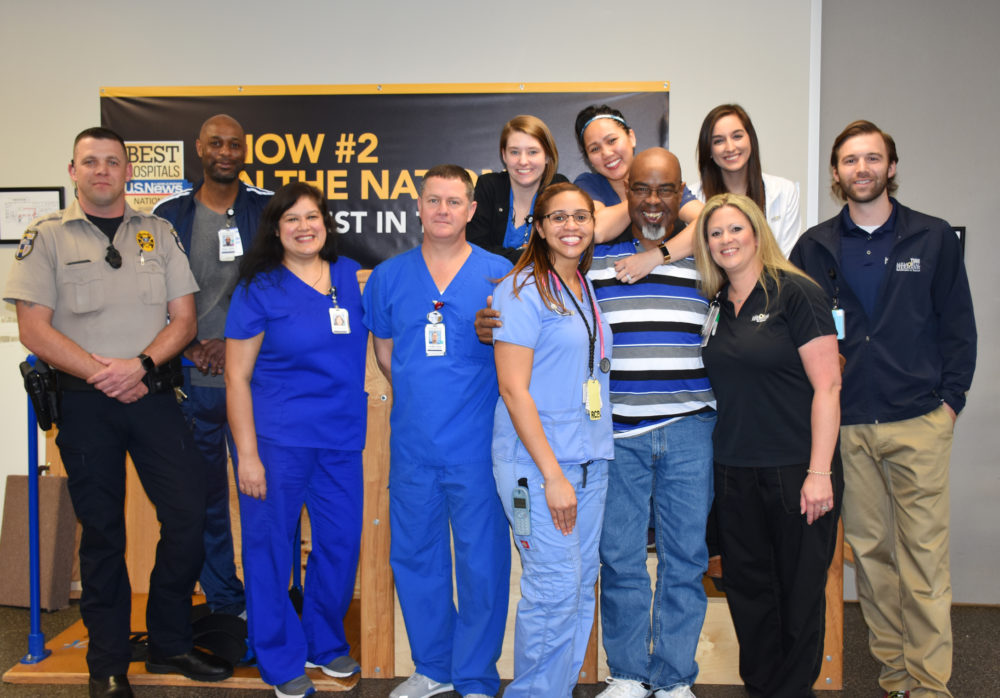 Manuel had a massive heart attack caused by a 100% blockage in his left anterior descending artery. Multiple people rushed to help Manuel, including security officer Corby McKenzie. It's estimated Manuel underwent CPR for about 45 minutes.
"I have additional CPR training due my other job as a firefighter, so I knew I could help. Every time I began I doing compressions, I just prayed. I kept doing compressions on him even as they were taking him up to the cath lab. I'll never forget when he took a big breath and opened his eyes," says McKenzie.
Physicians and nurses were able to stabilize Manuel, and it was determined he would need bypass surgery.
"During bypass surgery, we graft a vein or artery taken from a healthy blood vessel and attach it below and above the blocked artery. Blood then flows through the graft, bypassing the blocked vessel," says Stephen Maniscalco, MD, Manuel's cardiovascular surgeon.
After several weeks in the hospital recovering, Manuel was able to walk out of the hospital on his own. Dr. Maniscalco says Manuel should count himself as lucky.
"For someone to undergo CPR as long as he did and to recover as well as he did, that's a success story. His heart attack could've happened anywhere, but he's lucky it happened while he was at the hospital," says Dr. Maniscalco.
Manuel credits much of his recovery to his caregivers at Memorial Hermann The Woodlands. "Everybody at that hospital did something special to keep me alive. From Corby and the others who did CPR on me, to the doctors and nurses involved in my surgery, to the physical therapists that helped me regain strength so I could walk out of the hospital, they made me feel like they really cared and treated me with respect," says Manuel.
After leaving the hospital, Manuel enrolled in the TIRR Memorial Hermann Challenge Program, which provides a comprehensive range of services to help maximize a patient's recovery and ensure they have the skills needed for long-term success.
"Ray's long term goals included going back to work and back to driving. He's made tremendous progress through his hard work with speech, occupational, and physical therapists, and will soon achieve both those goals! Throughout his journey, he was always positive, encouraging of others, and thankful to all those who were working with him in his recovery," says Christine Dantche, Manuel's Vocational Rehabilitation Counselor and Case Manager in the Challenge Program.
Dr. Maniscalco says Manuel's story is a good reminder to never take your heart health for granted. "Raymound was fairly young to have a heart attack. People need to make sure they're getting their blood pressure and cholesterol checked regularly, not smoking or quitting smoking, and staying active. Heart disease can happen at any age," says Dr. Maniscalco.
"I know for a fact that hospital changed my life. I get tears in my eyes thinking about it! I can't thank everybody enough." says Manuel.
Memorial Hermann The Woodlands is an is an Accredited Chest Pain Center as designated by the Society of Chest Pain Centers. Working in partnership with EMS, emergency physicians, cardiologists and critical care nurses, a Chest Pain Center's goal is to shorten the time from a patient's initial cardiac symptoms to treatment. Learn more about the heart and vascular care at Memorial Hermann The Woodlands, or schedule an appointment with a cardiologist near you.