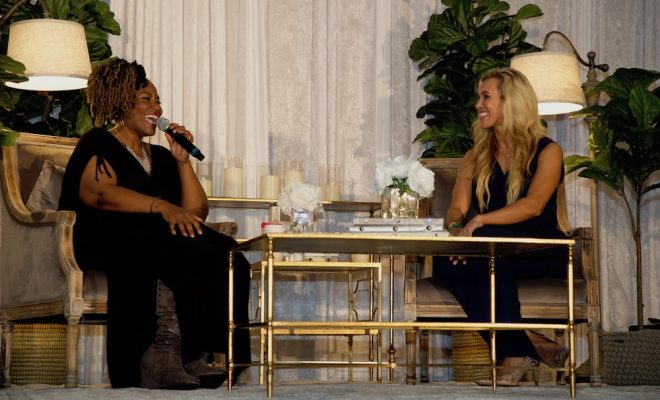 Photography by Rod Prado, Hello Woodlands
Events
Mandisa shares her journey and performs at Women Empowering Women
By |
THE WOODLANDS, TX – Grammy award winning artist, Mandisa, was the featured speaker for Interfaith Community Clinic's 7th Annual Women Empowering Women luncheon. Presented by CHI St. Luke's Health, the luncheon was held at The Woodlands Resort and Conference Center on Friday, January 31, 2020.
Mandisa now with a renewed passion for her music and was totally transparent and vulnerable on the Women Empowering Women stage as she shared her journey with Missy Herndon, President and CEO of Interfaith Community Clinic.
View photos from the event on the Hello Woodlands Facebook page!
Mandisa shared how grew up singing in church and after completing a bachelor's degree in music, Mandisa performed session work as a backup singer for a wide variety of artists including Christian author and speaker Beth Moore, Sandi Patty, Shania Twain, Take 6, and Trisha Yearwood. She finished in American Idol's Top 9 in 2006. In 2007, she was signed by Sparrow Records. Her book, IdolEyes (with Angela Elwell Hunt), was published by Tyndale House in May 2007 and her debut CD, True Beauty, was released two months later.
In telling her story, Mandisa shared after she lost her dearest friend Kisha to cancer, Mandisa withdrew, wrestled with God, and fell into a deep depression.
"I was disappointed with God. I was mad because as I prayed for her, I believed that God was going to heal her. I'm not the kind of person who shakes my fist at the Lord and yells and screams. I just shut down and started turning to food again for comfort. For years, I was turning to Him for comfort, but I didn't trust Him anymore, so I isolated and went back to my old friend, food. My loved ones were reaching out and I would ignore their phone calls and text messages."
Mandisa happily shared that she is now back and reconnecting with people, losing the weight she regained during her depression, and writing and recording. "My hope is that people will be on this journey with me. When I began, I was in a really dark place, but where I am today is so much better and so much lighter. He pulled me out of the dark! I'm hoping that the same way that God is restoring me, that He will restore those who listen to it."
Mandisa gave a powerful and upbeat performance after sharing her story to the excited crowd that filled the room at The Woodlands Resort.
Proceeds from Women Empowering Women benefit Interfaith Community Clinic, the only charity clinic serving all of Montgomery County. "This annual event raises much-needed funds for the Clinic, as demand for services continues to grow each year," explained Missy Herndon, President & CEO of Interfaith Community Clinic.
Interfaith Community Clinic opened its doors in 1996 as the South County Community Clinic, offering routine medical care to those in need. As the community has grown, so have the services offered by the Clinic. Today, patients continue to receive high-quality, basic medical and dental care, as well as counseling and patient services, regular health and lifestyle education classes and community outreach programs.
A volunteer staff of licensed physicians, nurses, medical providers, dentists, dental assistants and dental hygienists; as well as translators and support personnel, work together to provide patient care. Programs are provided free of charge and are funded through the generous financial support of grants, faith-based organizations, businesses, civic groups and individual donors.
For more information on the Clinic, visit interfaithcommunityclinic.org or call 281-364-7889.