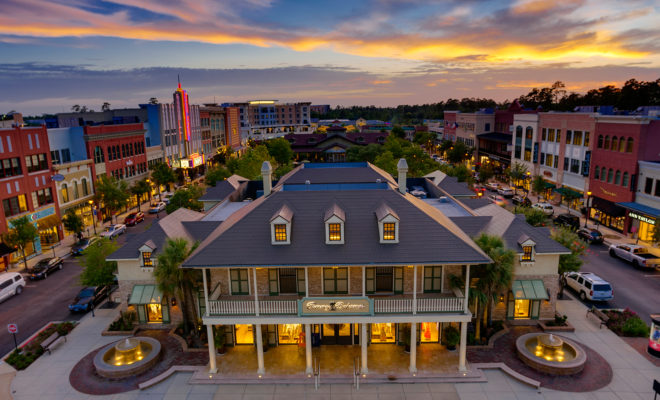 Hurricane Harvey
Market Street Launches Fundraising Campaign with Interfaith to Benefit Harvey Relief
By |
The Woodlands, TX – In the wake of the devastating impact of Hurricane Harvey, Market Street is rallying The Woodlands community to support storm relief efforts by donating to Interfaith of The Woodlands.
The fundraising is part of a company-wide effort by Market Street developer Trademark Property Co. to activate its mixed-use properties nationwide, bringing together tenants, financial partners, and the community to help those impacted by the storm.
As a part of Trademark's Make a Difference initiative, they have committed to match up to $150,000 in donations across participating properties. In addition, our financial partner, Miller Capital, will match local donations made to Market Street up to $50,000.
The Woodlands community is encouraged to donate by texting the word "local" to 832.925.3144.
In addition to the online donations that can be made online from a link on the Market Street homepage and text donation collection, Market Street will be hosting a Shop, Dine, Give Local campaign from September 20th-27th. Select stores and restaurants will be donating a percentage of sales to the relief efforts during this week. A window cling will be displayed at participating retailers.
"Our thoughts and prayers are with all of those who have suffered tremendous loss as a result of Hurricane Harvey," said Terry Montesi, CEO, Trademark Property Co. "As a company with deep ties to The Woodlands, Houston, Corpus Christi and the Gulf Region, we are inspired by the stories of resilience, heroic actions, and communities coming together. We're proud that so many of our partners, properties, tenants, and employees have rallied to support these communities in their greatest time of need."
"We are keeping the people of Houston close to our hearts as they begin to rebuild their community," said Miller Capital President and Chief Executive Officer Andrew Miller. "We are pleased to be able to offer our financial support and encourage others to join us, La Palmera, and Trademark in this effort."
Three of Trademark's properties are located within Hurricane Harvey's path: La Palmera in Corpus Christi, TX, Market Street – The Woodlands in The Woodlands, TX, and Rice Village in Houston. In addition, the company has countless family, friends, employees and tenants who have been impacted by the storm.
Market Street and Trademark are partnering with Interfaith of The Woodlands, to administer the fundraising campaign. Donated funds will be distributed directly to South Montgomery County community to support recovery efforts/meet the needs of evacuees seeking shelter and long-term assistance in South Montgomery County. All general and administrative fees have been waived, ensuring that 100 percent of individual donations will go toward on-the-ground efforts.
The fundraiser is part of Trademark's Make a Difference initiative, which encourages community service at all levels of the company. Trademark's employees and properties serve through volunteerism, Conscious Place initiatives, and property-level efforts to raise awareness, funds and partnerships with community organizations.
Source: Market Street The Woodlands