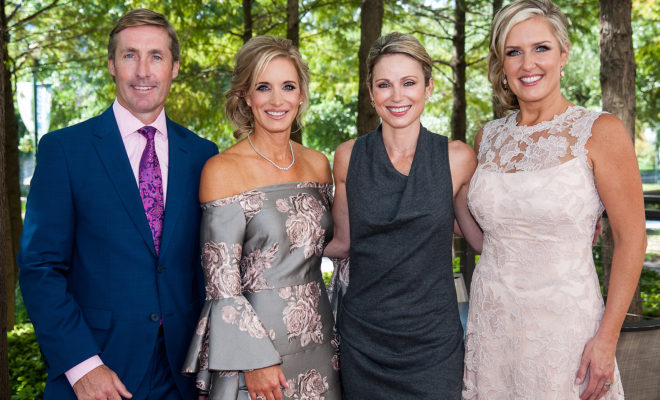 Events
Memorial Hermann In the Pink of Health raises nearly $600,000 for Breast and Ovarian Cancer Initiatives
By |
THE WOODLANDS, TEXAS (Oct. 3, 2017) – The Woodlands Waterway Marriott was awash in pink and teal last Friday at the 17th Annual Memorial Hermann In the Pink of Health Luncheon.  Generous donors and attendees helped raise nearly $600,000, which will be reinvested into the greater Montgomery County area to fund cutting-edge technology, programs and services for breast and ovarian cancer patients and survivors.
Chaired by Cheryl Brady and Tiffany McClung, the day's festivities commenced at 10 a.m. with champagne and shopping.  The sold-out crowd sipped on bubbly while bidding on exclusive Silent Auction gift packages, ranging from a "Magnolia or Bust" Magnolia Market trip for six in a custom Mercedes-Benz van to four Texans suite tickets with a parking pass.  Other attendees worked their way through the Pink Boutique to purchase keepsakes for their guests.  However, the highlight of the morning was a luxury raffle to win one of two $5,000 shopping sprees at the new Tory Burch boutique in Market Street.
The formal luncheon and program began at noon with emcee Tanji Patton welcoming guests.  By 1 p.m., keynote speaker Amy Robach took the stage.  The crowd warmly greeted the ABC "Good Morning America" news anchor, best-selling author, mother of two, stepmom of three, wife, and breast cancer survivor.  They also listened intently as Robach detailed her journey from her first ever mammogram, which was filmed live on "Good Morning America," through her darkest hours, and to present day as she discussed her passionate stance on early detection and education.
"My responsibility is to pay it forward," Robach said as she discussed the friendly cajoling she felt to get a mammogram and ultimately the support she received from friends and colleagues, including Robin Roberts after her diagnosis.  "When you tell your story, you move people, you change people, and you ignite them to action.  If I inspire just one woman to get her mammogram, my story has made a difference."
The luncheon concluded with a special thanks to sponsors: Richie and CeCe Ray of Richie's Specialty Pharmacy, Tricia and Jack Futcher, Tory Burch, Kristy and John Sexton of Adcetera, Mary Ann and Marty Young,  Bob Milner of Mercedes-Benz of The Woodlands, and Richard Van der Dys of Van der Dys Jewelers.
Familiar faces spotted at the luncheon included Marta Pate; Nelda Blair; CeCe Ray; Chuck Stokes, CEO of Memorial Hermann Health System; Tricia Futcher; Mary Ann Young; Bob Milner; Anne Neeson, CEO of Memorial Hermann Foundation; Kristy Sexton; and Cathy Brady, wife of US Congressman Kevin Brady.
For more information, or to support breast and ovarian cancer programs at Memorial Hermann The Woodlands Medical Center, visit www.inthepinkofhealth.org.