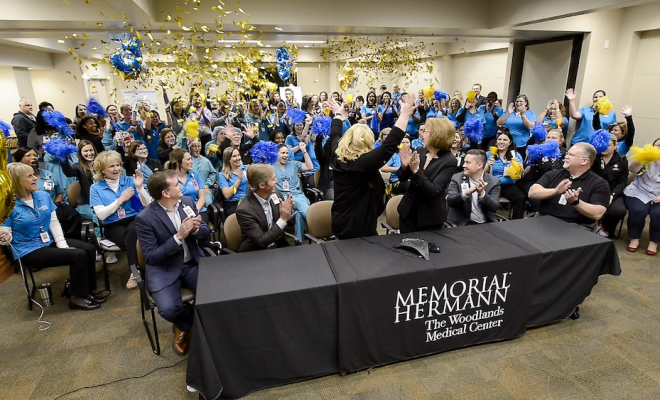 Photo provided by Memorial Hermann
Health
Memorial Hermann The Woodlands Achieves Third Magnet Designation for Nursing Excellence
By |
THE WOODLANDS, TEXAS – Memorial Hermann The Woodlands Medical Center has garnered one of the highest levels of recognition a hospital can receive for a third time with three exemplars. The first hospital in The Woodlands announced today it has again earned re-designation as a Magnet Recognition Program® by the American Nurses Credentialing Center's (ANCC).
Watch the video announcement below:
Less than ten percent of hospitals in the country have achieved prestigious Magnet status since the program's inception. Memorial Hermann The Woodlands first earned Magnet recognition in 2010 and, after a decade of distinction in nursing excellence, is still the only hospital to do so in Montgomery County.
The Magnet Recognition Program recognizes healthcare organizations for quality patient care, nursing excellence and innovation in professional nursing practice. Magnet recognition is the highest possible organizational credential granted by the ANCC, the largest and most prominent nursing credentialing organization in the United States. Hospitals must excel in several areas, including nursing standards and practices, patient care, and innovations in nursing leadership and management to earn Magnet status.
"This is a testament to our commitment to excellence in quality patient care and to providing memorable experiences. We are so proud and honored to again be part of the Magnet Recognition Program," said Memorial Hermann The Woodlands VP and Chief Nursing Officer Catherine Giegerich, DNP, MS, BSN, RN, FACHE. "Magnet is the pinnacle of nursing honors. It recognizes the great work done on a daily basis by our nursing staff as well as our dedication to patient-centered, personalized care."
Before a hospital is selected for Magnet recognition, ANCC completes a rigorous, extensive evaluation process that includes onsite visits, reviews of written documentation, staff and patient satisfaction surveys and interviews. Initial Magnet recognition is valid for four years and, during that time, hospitals and nursing staff are closely monitored, evaluated, and surveyed to ensure they remain in compliance with the program's high standards. At the end of the four-year period, hospitals must re-apply and again undergo the challenging evaluation process.
"Designation as a Magnet facility is an incredible achievement, especially for the third time with three exemplars," said Josh Urban, Senior Vice President and CEO of Memorial Hermann The Woodlands. "It tells our patients that we have consistently maintained the highest standard of care for the communities we serve. It also highlights the collaboration, cohesiveness and innovation of our nursing staff and interdisciplinary employee partners. Our community deserves the safest quality care available and this affirms that our staff is providing that."
Studies have demonstrated that Magnet-recognized hospitals typically provide a higher quality of patient care, including lower mortality rates and better patient and employee satisfaction. Magnet hospitals also experience lower turnover and lower rates of burnout among nursing staff. The recognition is also directly linked to a hospital's ability to attract and retain qualified, highly educated nursing staff.
About Nursing at Memorial Hermann The Woodlands Medical Center:• 955 Registered Nurses (RNs)• 36% of RNs are Certified (board-certified and licensed in a specialty area)• 80% of Certified RNs have a BSN or higher degree• 60% of RNs have 10 or more years of experience
Of the 6,000-plus hospitals in the U.S., only a little over 500 are Magnet facilities. Memorial Hermann The Woodlands is one of five Magnet hospitals within the Memorial Hermann Health System: Memorial Hermann Greater Heights;Memorial Hermann Memorial City Medical Center; Memorial Hermann Southwest and Memorial Hermann-Texas Medical Center.
To learn more about job openings in nursing and other interdisciplinary roles, visit memorialhermann.org/careers
Source: Natasha Barrett, Memorial Hermann