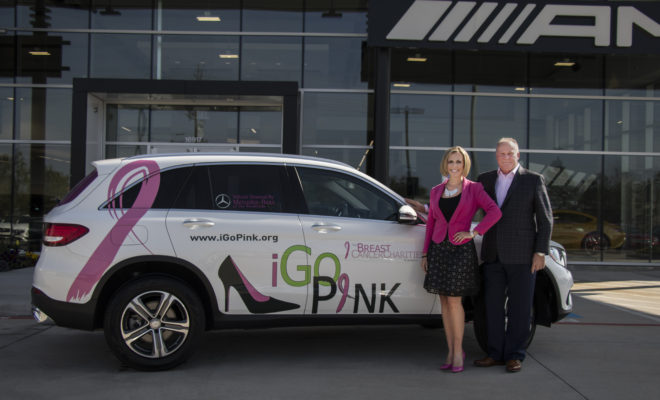 Lifestyle
Mercedes-Benz Donated To Local Breast Cancer Charity
By |
Mercedes-Benz of The Woodlands continues their support for local organizations through the donation of a new 2017 Mercedes-Benz GLC300 SUV that has been wrapped with iGoPink's branding and will be used as iGoPink's official transportation as they carry out their mission throughout the year. The nationally recognized dealership, led by Co-Owner Bob Milner, believes in the mission of iGoPink and The Breast Cancer Charities of America and is committed to helping the organization in their endeavor to support local women who have been diagnosed with breast cancer.
iGoPink supports women currently undergoing treatment, and also provides a powerful network for survivors. The organization runs an array of programs that are designed to help women when they are at their most vulnerable. Their Feeling Beautiful Again program collects and distributes beauty baskets of hope to help women feel a little more like themselves while going through treatment. iGoPink also provides bill payment assistance to patients and hosts several annual events to raise money for the cause.
"Supporting your neighbor is the definition of community," said Milner. "Those of us here at Mercedes-Benz of The Woodlands are a part of this community, and that is why we feel like it's our duty to step up and help however we can. We don't just work here, we live here with our families and friends, and we're always here to help empower our neighbors."
Mercedes-Benz of The Woodlands was recently awarded the 2017 DealerRater Dealer of the Year Award, designating them as the best Mercedes-Benz dealership in Texas. DealerRater notes that the award is unique, because it is based on reviews by new- and used-car shoppers and those who took their vehicles into dealerships for service. The dealership was recognized for their outstanding customer service and commitment to the community. This is the dealership's first partnership with iGoPink and The Breast Cancer Charities of America, and Milner is looking forward to continued support of the organization.