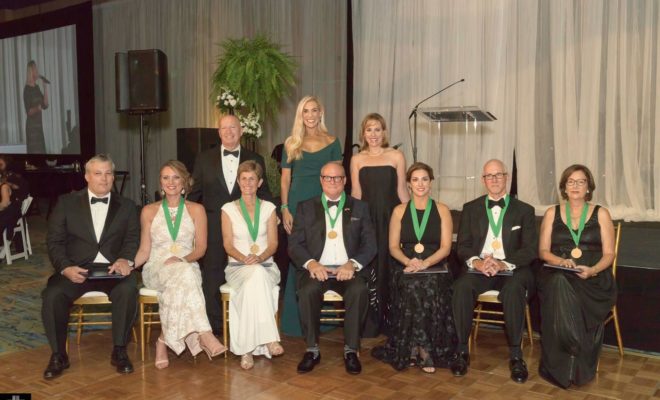 Photo by Derrick Bryant Photography
Calendar
Midnight in the Garden: Truly a Night of Community
By |
By Amanda Poole
The moment you stepped inside of The Woodlands Waterway Marriott, you were greeted with laughter, warmth and a sense of community. Midnight in the Garden, The Woodlands Celebration of Excellence Gala, was a beautiful celebration of unity and a time where friends, new and old, could come together and honor the way our community withstood the trying times of the last several weeks.  The gentlemen never looked more handsome, or the ladies more stunning in their floor length gowns. There was exceptional attention to detail, truly transporting you from The Woodlands to "Midnight in the Garden."
The evening was full of touching moments such as Bev Earl, a 2005 Hometown Hero, placing a medal on her daughter, Melissa Young, as a 2017 recipient. There wasn't a dry eye in the ballroom when Kim and Jud Hess (Cassidy Joined for Hope) received a standing ovation as they received the first Hometown Hero award to be given to a nonprofit. All recipients were visibly emotional and incredibly thankful to be honored. Other recipients were: Bob Milner, Julie Ambler, Amy Lecocq, and Rob Johnson.
There was also a creative and extensive silent auction, as well as an amazing live auction that included packages like enjoying a week on your own private island and the opportunity to name a grove of trees in The Woodlands.
Other highlights of the evening included Congressman Kevin Brady being in attendance, and when Peter Huntsman honored Missy Herndan, President and CEO of Interfaith of The Woodlands, and the team at Interfaith, for their truly outstanding operation of the donation center in Conroe. Peter echoed what was felt in hearts across the county as he spoke of Missy's leadership, and how the center was run with excellence and compassion. He spoke of the long hours volunteers and staff members alike, even while the rains of Hurricane Harvey fell. What seemed to top it all off, was that not only was Huntsman Corporation the presenting sponsor to the tune of $75,000, but they committed to match funds up to an additional $250,000 raised before and during the gala.
All funds raised from the grand event went to support Interfaith's efforts to assist those in crisis. In addition to meeting the immediate needs of those in crisis with food, water, clothing and basic supplies, Interfaith will continue serve as a vital lifeline for many needing ongoing assistance with emergency transitional shelter, deposits, rent, mortgage, and utilities to help families transition back into permanent housing.
Interfaith is the heartbeat of the community, which they have displayed more than ever during this most recent time of unprecedented crisis. We are thankful for how they bring us together, shelter us when needed and lift us up back on our feet. We are excited to hear to total funds raised that will further impact our community and wish them success in the coming year.