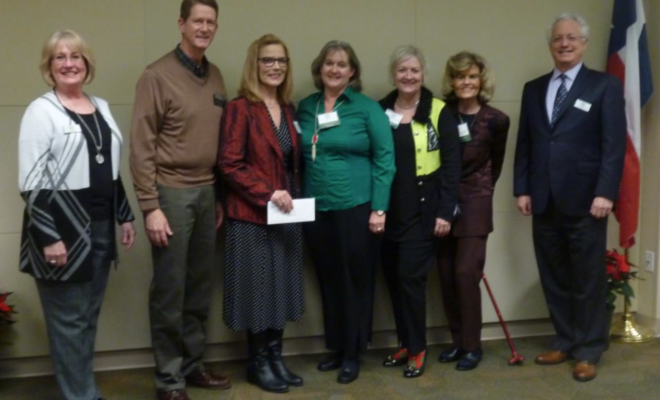 Lifestyle
Montgomery County Community Foundation Awards Grants to Local Organizations
By |
MONTGOMERY COUNTY, TX – As the late President Bush's casket rode the rails to its final resting place at Texas A&M, local philanthropists, community leaders, and non-profit staff and volunteers illuminated his "Points of Light." The conference center at Memorial Hermann The Woodlands Medical Center had a standing room only crowd for the Montgomery County Community Foundation's (MCCF) 2018 Grants Award Reception where 42 local organizations received $180,200 in grants.
MCCF's board president, Leland Dushkin, opened the evening with a quote from one of President Bush's speeches, "I have spoken of a thousand points of light, of all the community organizations that are spread like stars throughout the Nation, doing good. We will work hand in hand, encouraging, sometimes leading, sometimes being led, rewarding."
"I applaud you," Mr. Dushkin said, "as representatives of our community organizations, dedicated to serving others – the people of Montgomery County, as Montgomery County Points of Light. You brighten the days of so many."
MCCF was one of those Points of Light, brightening the day for local organizations serving the residents of Montgomery County. Grant funding from twenty-nine funds was awarded across a wide range of interest areas, such as helping the poor, elderly and disabled, health care services, heritage preservation, arts and culture, helping abused and neglected children and children in foster care, and purchasing equipment to help organizations' operations.
MCCF's new fund, Randolph Yeakley Animal Welfare Fund, offered more grants for organizations such as Abandoned Animal Rescue, The Heartworm Foundation, The Woodlands Dog Park, and Henry's Home and Human Sanctuary. A few of the other organizations which received funds this year were First Baptist Church Conroe, the Montgomery County Heritage Museum, Interfaith Community Clinic, Assistance League of Montgomery County, Conroe Symphony Orchestra, and Crisis Assistance Center.
Grants are awarded annually after MCCF's volunteer Distribution Committee members and staff have researched and vetted the organizations which have submitted applications for funding. Fifty-eight organizations requested over $630,000, making it one of the most difficult years for MCCF's Distribution Committee members. A part of the process included committee volunteers talking with key staff and volunteers about the organization and program for funding and determining if there was a fund and which fund could provide a grant to the project. The Distribution Committee, chaired this year by Memorial Hermann's CFO Randy Reid, made their recommendations to the board which reviewed them and voted on the entire slate of recommendations.
A special thank you to the Distribution Committee: Randy Reid, Chair, Rev. Rhett Ansley, Wynn Dee Baker, Hector Forestier, Suann Hereford, Charlie Patterson, Beau Rees, Robert Rosenquist, Juanita Stanley, Anne Sundquist, Margie Taylor, and Melissa Young. Each member serves a non-renewing three year term and represent different business and geographic sectors of the community.
You can be a Point of Light by opening an endowment fund at Montgomery County Community Foundation that targets your passion. MCCF embraces the future by creating legacies that improve the quality of life through support of non-profits serving Montgomery County and scholarships. To start an endowment fund to create a legacy in Montgomery County or to learn more about MCCF, go to www.mccfoundation.org or call Julie Martineau at 281.363.8158.