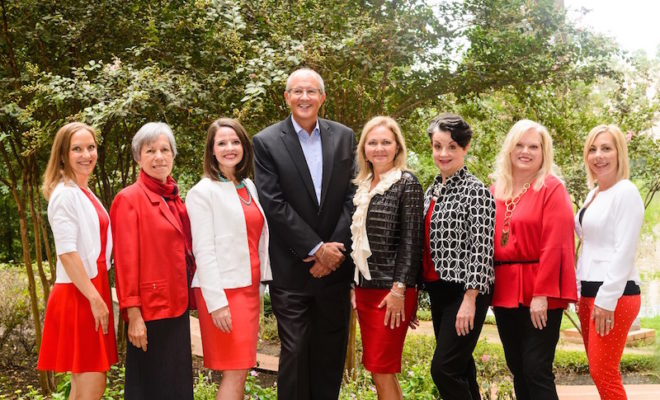 Calendar
Montgomery County Healthy for Good™ Heart Walk Chairs Announed
By |
The American Heart Association (AHA) Montgomery County Healthy for Good ™ Heart Walk is pleased to announce CHI St. Luke's Health – The Woodlands Hospital as the 2017 Heart Walk Chair, and Thomas M. Smouse, American Heart Association Montgomery County Board of Directors Member, as co-chair of the annual, family-friendly event.
The event, which is scheduled for Saturday, October 28, will be held at Alight Solutions in The Woodlands off Lakeside Boulevard from 8:15 to 11:00 a.m.
"At CHI St. Luke's Health, we are faithful to our mission of building healthier communities; it is at the heart of all that we do," said Sister Carmen Sanchez, Manager of Mission and Spiritual Care for CHI St. Luke's Health.  "We also recognize and value the power of partnerships in furthering our mission.  We are honored to serve as the chair for the 2017 Montgomery County Heart Walk."
The Montgomery County Heart Walk aims to raise $500,000 for the mission of the AHA, which is to build healthier lives free of cardiovascular diseases and stroke.
This year's event will welcome over 5,000 walkers as they walk for healthy hearts across the Montgomery County community. Heart Walks are the signature community event for the American Heart Associations' Healthy for Good™ Movement, which encourages Americans to lead healthier lives by delivering science-based recommendations, tools, tips and motivation to build healthier behaviors.
The walk also raises funds to support the fight against heart disease and stroke – our nation's No.1 and No.5 leading causes of death.
"Heart disease has a history of impacting my family.  From my perspective, it's important to give back in our community and to raise the awareness level of heart-related educational and preventative programs," shares Smouse. "I want to help make a positive impact to spread the word on the importance of heart healthy behavior choices."
Healthy for Good™ is a movement designed to rally millions of Americans to live healthier lives, inspiring lasting change, and unify people around the simple idea that making a small change today can create a difference for generations to come.
Four key areas ground the Healthy for Good™ Movement – Eat Smart, Add Color, Move More, and Be Well. Unfortunately, about one in three adults participate in no leisure time physical activity. Getting the recommended 150 minutes of moderate physical activity weekly is linked to lower risk of diseases, stronger bones and muscles, and improve mental health and mood.
According to one study, just 25 minutes of brisk walking a day can add up to seven years of life expectancy. In fact, for the average person in their 50s and 60s, moderate exercise could reduce the risk of dying from a heart attack by half.
Current sponsors for the Heart Walk include Alight Solutions, Strike USA, Kiewit, CHI St. Luke's Health, TETRA Technologies, Houston Northwest Medical Center, Global Shop Solutions, Memorial Hermann The Woodlands, Texas Children's Hospital, 5Point Credit Union, The Woodlands Development Company, Northside Imports, Villa Sport, and Houston Methodist – The Woodlands Hospital.
Registration is underway for the annual Heart Walk, and the AHA is encouraging walkers to create their teams and set walking goals online at montgomerycountyheartwalk.org. If you are interested in participating in the event as a sponsor, contact Carolyn.Donovan@heart.org.
Source: Nicole Dixon, American Heart Association