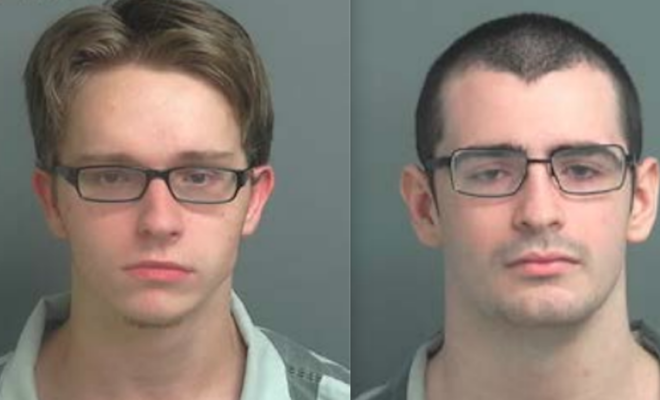 News
Judge sentences last defendant of "Three Stooges" Crew
By |
On Friday, December 1, 2017, Ronnie Morris was sentenced to 10 years in prison by Judge Phil Grant in the 9th District Court of Montgomery County, Texas. Morris pleaded guilty to the first degree felony offense Aggregate Criminal Mischief charge on September 14, 2017. The range of punishment for the offense is 5-99 years or Life in prison and up to a $10,000 fine. Morris was eligible for probation, having no prior felony criminal history.
Detective Rachel Clark with the Conroe Independent School District Police Department testified in the sentencing hearing to the amount of damaged caused to multiple school in Conroe ISD as well as New Caney, New Waverly and Waller ISDs by Morris and his co-defendants Chad Eaton and Paul Clark. Detective Clark detailed how Morris joined the group's criminal mischief spree in August 2016 after the other two had already damaged multiple schools and stolen cash from offices. Morris and his co-defendants were caught on camera with dark clothing, masks, and crowbars smashing computer monitors, windows, and electronics as well as breaking into safes in multiple schools. The trio was eventually identified with the help of various school officials and the cooperation of all of the police officers in the jurisdictions working together. Morris participated in destroying roughly $380,000 in property at schools across Montgomery, Harris, and Waller counties on ten different nights, one of which resulted in over $280,000 in damage to Waller High School. In total, the damage to the schools during the entire 26-school spree approached half a million dollars.
During the sentencing phase, Morris testified that he was a follower and was just taking directions from his co-defendants Eaton and Clark, who he considered friends and coerced him into participating. Surveillance video footage showed Morris breaking items on teacher's desks, breaking windows and making forced entry into locked rooms while his other two codefendant's were in different areas of the school and breaking items for no reason. Morris is also seen at various schools on different nights between August and October 2016 when the group was arrested. The three referred to themselves as the "Three Stooges" and spray painted the name at multiple schools while destroying property. After considering the evidence presented, Judge Grant sentenced Morris to 10 years in prison.
Chad Eaton, who was identified in the destruction and theft at 23 of the schools, took his own life and his case was dismissed in May 2017. Paul Clark, who was identified as participating in the destruction of property and thefts at 18 of the schools, pleaded guilty and was sentenced to 20 years in prison by Judge Grant after a hearing on the evidence on July 21, 2017.
Prosecutors were impressed with the dedication and cooperation of the many law enforcement agencies involved to work together to end the crime spree across the school districts. The devotion of hours and resources was significant, but ultimately helped to stop the spree before it reached the millions. Prosecutor Lisa Stewart, who presented the evidence in both Clark and Morris' sentencing hearings, said, "The prison sentences for these defendants reflect the level of destruction these defendants inflicted on multiple communities. Every school district can't just bounce back from this level of destruction and the sentences reflect the impact on the hardworking taxpayers, the students, and the communities who invested into resources for these schools."
Source: Lisa Stewart, Assistant District Attorney, Montgomery County District Attorney Office