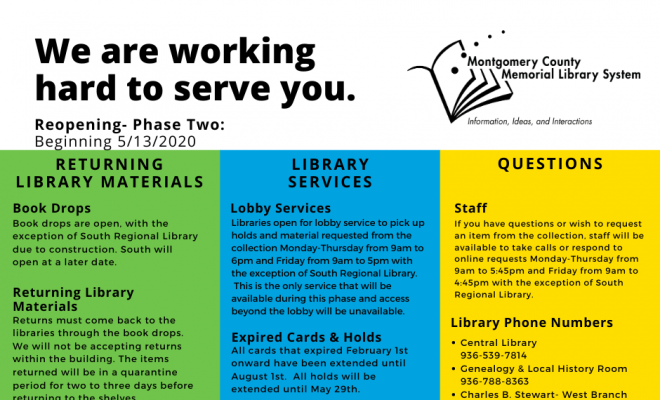 Photo Credit: Montgomery County Memorial Library System
News
Montgomery County Library System starting phased reopening on May 13
By |
The Montgomery County Memorial Library System is starting a phased reopening of local libraries as of Wednesday, May 13.
MCMLS shared the following message on their Facebook page:
"Please know that utmost in our minds is the safety of our library patrons and staff. Therefore, we will be opening our libraries' lobbies to pick up holds and materials that have been requested from our collection only. There will be no other access to the inside of the library. We will be opening Monday thru Thursday from 9am to 6pm and Friday from 9am to 5:00pm. We miss you and can't wait to see you all again!"
According to the MCMLS website, they will be opening the lobby area of all branches, with the exception of South Regional, on a limited basis. Library hours will be limited to Monday through Thursday 9am-6pm and Fridays 9am-5pm.
Per the MCMLS Facebook page, the South County Library will continue to be closed until its parking lot is repaved. Once the parking lot is repaved staff will be able to enter the building and prepare for the public, then South County Library will reopen to the public. The estimated date of reopening has not been announced.
For more information about the libraries' plans for reopening, visit https://www.countylibrary.org/calendar.htm
Visit the Facebook page for children and teen virtually programming this May at https://www.facebook.com/mcmlsTX/