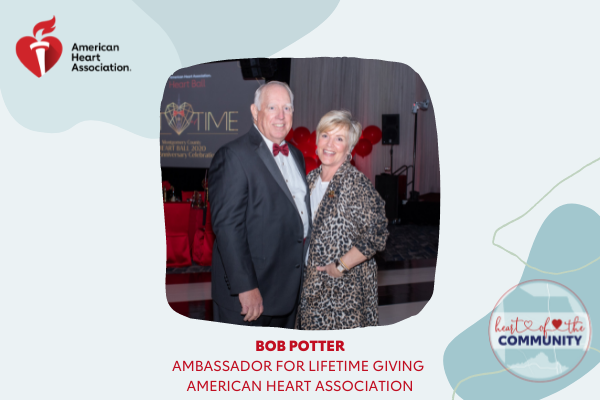 People
Heart of Bold: Montgomery County Resident Bob Potter named First American Heart Association Ambassador
By |
The American Heart Association's Montgomery County 2022 Heart Ball, happening March 25 at The Woodlands Resort, will recognize Montgomery County resident, Bob Potter, as the first ever Ambassador for Lifetime Giving for their prestigious Cor Vitae Society.
In the interview below, Mr. Potter shared with us about his longtime volunteerism, why he chose to take on the new role and his hope for the impact he can make leading up to the Association's 100th birthday and centenary celebration in 2024.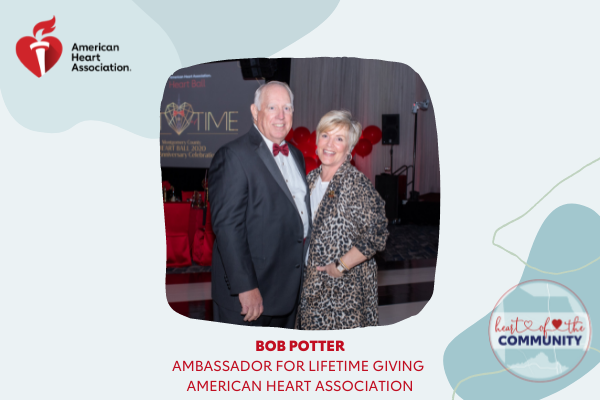 The Interview
How did you get involved with the American Heart Association?
Yes, my wife Suzanne and I have supported the American Heart Association for over two decades. I spent my career with FMC Technologies, Inc. (today known as Technip FMC) and retired as President in 2013. For my entire career, the American Heart Association was one of the two premiere charities the organization supported. So, I was introduced to their mission early on, and as I rose in leadership roles with the company, I became more familiar with their impact. But it is also personal. My father passed away at the age of 47 due to issues with hypertension. Modern advancements in treatment and care, research funded by the American Heart Association, would have extended my father's life.
You have held many titles in your several decades supporting AHA. Tell us about your current title.
I was named the Ambassador for the Lifetime Giving Society in Greater Houston. This is a new role for the Heart Association; they're replicating it across the county, but Houston was one of the first. It says a lot about our community and its giving spirit for the position to get its start here.
As the ambassador, I will be engaging with philanthropically minded people across the Houston area to share my passion for the work AHA is doing and why I choose to support them as my top charitable organization. I believe the AHA has the broadest and deepest impact in saving lives and improving quality of life of all the charities I support.
Ultimately, my goal is to have others join me and other supporters in the Cor Vitae Society, specifically at the Lifetime Giving level, who are committed to significantly impacting the health of the Houston community.
You are in the Ambassador role through 2024. What is your vision for this position?
The vision for this Ambassadorship is to accelerate the AHA's mission by growing Lifetime membership locally to inspire greater engagement with the American Heart Association and deeper, local community impact.
I decided to take on this challenge because I have believed for quite some time that the AHA needed to supplement its history of event-driven fundraising at the community level with a more focused initiative targeting fundraising driven by an individual's passion and commitment for the mission of the organization. When you donate funds – what is it going to? We know they're fighting heart disease and stroke and have a history of funding groundbreaking scientific advancements to address those issues. But beyond that, it is my desire to see more of an emphasis on and expansion of the local community impact work changing the health landscape locally.
We have not had as much visibility into the community work, but that's changing and as we have more donors join at the lifetime level it will really begin to ramp up significantly.
Tell us about some of that community impact work and what is being done here in Montgomery County?
The Heart Association's work is focused on health equity and addressing the root causes of heart disease and stroke. A few years ago, they surveyed local leaders from a variety of different fields to identify priority issues to ensure our work was focused on addressing key challenges and filling in gaps. Today they're working to address high blood pressure and hypertension, nutrition security and maternal health risks as well as implement lifesaving CPR training and awareness of CHD.
To highlight a few recent collaborations that we are proud of:
This summer we will launch a much-needed mobile market in collaboration with the Montgomery County Foodbank to address nutrition security issues.
Introducing a Walking Rx program with Interfaith Community Clinic to increase the health of their patients through movement.
Implementing a comprehensive nutrition policy with Montgomery County Meals on Wheels to ensure the meals delivered to their clients meet our guidelines for optimal heart and brain health.
Providing blood pressure monitoring equipment to Lone Star Family Health Center enhancing care with their hypertension patient population
These are powerful partnerships taking place where people live, work, play and pray!
The Heart Association is coming up on quite the milestone which also coincides with your role. Tell us about that.
I will serve as the Ambassador for Lifetime Giving through 2024, which is the year the Heart Association celebrates its 100th birthday. It is both a celebration of our impact over the past century – the advances in research, discovery and awareness, things like the pacemaker and microsurgery – but more than anything it harnesses our desire to work relentlessly to eliminate heart disease and stroke. That's more than just addressing the issue but working to identify and remove barriers to good heart and brain health.
It is our hope to honor 24 new members in Lifetime Giving to commemorate this historic milestone and establish a strong foundation as we begin this second century.
How can someone get involved with the Heart Association and their local community efforts?
Messaging contact.houston@heart.org will allow AHA to ensure you're talking with the person best equipped to address your questions. Visit heart.org to learn more broadly about the health topics the association is working to address.
About the Ambassador
Robert L. "Bob" Potter is the retired President of FMC Technologies, Inc. ("FMC"), having held that position from August 2012 until his retirement in November 2013. Mr. Potter joined FMC in 1973 and served in several sales, operations and management roles prior to his appointment in 2001 as Vice President of Energy Processing. He was appointed Senior Vice President of Energy Processing and Global Surface Wellhead in 2007 and Executive Vice President of Energy Systems in 2010.
Mr. Potter is a graduate of Rice University with a bachelor's degree in commerce. He is a former chairman of the board for the Petroleum Equipment Suppliers Association ("PESA") and a former member of the board of directors of the National Ocean Industries Association ("NOIA"). He currently serves on the Council of Overseers for the Jones Graduate School of Business at Rice University. Mr. Potter currently serves as Chairman of the board at Oil States International, Inc.
He is married to Suzanne Potter and they have a daughter who lives in Houston with her husband and two grandchildren. The Potters served as Chairs of the 2013 Montgomery County Heart Ball, sponsors of the 2016 Heart Ball and served on the Executive Leadership Team. They were honored for their work with the AHA at the 2017 Montgomery County Heart Ball and were the legacy sponsors of the 2019 Heart Ball. Bob has agreed to serve as the Ambassador for Lifetime Giving for Greater Houston starting spring 2021, with a goal of securing 24 lifetime members in Houston by 2024.
About the American Heart Association
The American Heart Association is a leading force for a world of longer, healthier lives. With nearly a century of lifesaving work, the Dallas-based association is dedicated to ensuring equitable health for all. We are a trustworthy source empowering people to improve their heart health, brain health and well-being. We collaborate with numerous organizations and millions of volunteers to fund innovative research, advocate for stronger public health policies, and share lifesaving resources and information. Connect with us on heart.org, Facebook, Twitter or by calling 1-800-AHA-USA1.
Source: American Heart Association