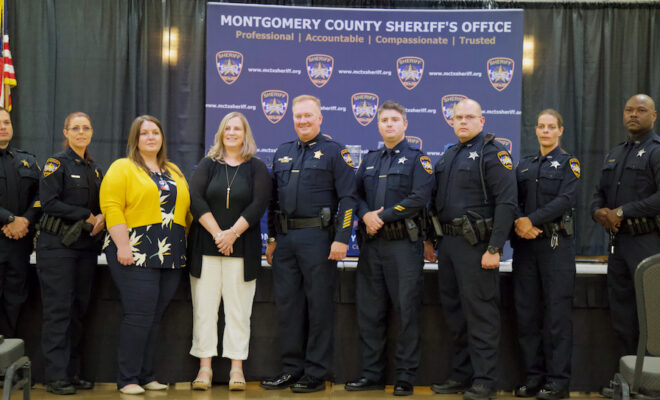 Photo by Jennifer Bruse, Hello Woodlands
Events
Montgomery County Sheriff's Office Promotion and Awards Ceremony
By |
The Montgomery County Sheriff's Office Promotion and Awards Ceremony was held on Thursday, May 27, 2021 at the Lone Star Convention Center located at 9055 Airport Rd. in Conroe, Texas.
Sheriff Rand Henderson was proud to present the Montgomery County Sheriff's Office Promotion and Awards Ceremony that has been designed to acknowledge those who have shown exceptional and outstanding merits that exemplify Sheriff Henderson's goals for the agency. The event included a welcome, presentation of colors, pledge of allegiance, pledge to the Texas flag, invocation, acknowledgement from the Sheriff, ceremony, closing invocation, and refreshments.
The vision of the Montgomery County Sheriff's Office is to serve as a role model for the public safety safety services with a mission to provide professional detention and law enforcement service to the community through meaningful partnerships to enhance the quality of life for citizens, businesses, and visitors through efficient and innovative public safety practices. Along with these ideals comes the Montgomery County Sheriff's Office's four guiding principles: Professional, Accountable, Compassionate, and Trusted. The MSCO's values represent their "P.A.C.T." with the community and it is the core of the unspoken and implicit agreement between citizens and their peace officers.
With each individual thoroughly reviewed and carefully chosen, Sheriff Rand Henderson has assigned those being recognized at the ceremony to safeguard the community's trust through these standards.
View photos taken at the event on the Hello Woodlands Facebook page here.
In talking with Hello Woodlands' Jennifer Bruse at the event about the last year and awards ceremony, Sheriff Rand Henderson shared, "In 2020 and 2021 it has been a really tough time for everyone, but for law enforcement specifically. Not only do we have to deal with the pandemic and everything that came about: new rules, how we are going to enforce things, how are we going to keep our personnel healthy, how are we going to keep our jail staff and our inmates healthy. We had all those challenges and then we had the horrible murder of George Floyd that led to the social justice movements that we aren't used to in Montgomery County. But, what we were blessed with was a lot of local support, so most of the protests were of specific incidents – not of the Sheriff's Office. So, it was actually a pretty proud moment for the Montgomery County Sheriff's Office because we work so hard day in and day out to gain the confidence and trust from our community. And because of that trust and confidence, we're not looked at as bad guys because of the circumstances. We get more pats on the back and thank you's more than anything – and that's kind of what this award ceremony is about today. It's an opportunity for us to recognize one another for some of the tremendous accomplishments and life-saving events our staff have had over the past six months. We do these twice a year. It's in our strategic plan that we will provide high quality professional service – not only to our community, but also to our employees and it was just a great event. We were still social distanced a bit today because of the rules of the facility, but we had a lot of folks here and a lot of families. It was a really special day."
Jennifer Bruse asked Sheriff Henderson, "What can the community do to help and support the Montgomery County Sheriff's Office?" He replied, "We just ask that you continue to be our partner. We are blessed with the community's support. We feel that we work every day to try to earn that. We are looking for partners on a daily basis – that's just individuals that want to volunteer or just that if they need us they can trust us when they have a crime to report, that's a partner as well. We are here to work in sync with our community. We get all of our power from the community. Law enforcement – some agencies – have forgotten that. We remind our personnel on a regular basis that without community and without community policing there is no Montgomery County Sheriff's Office."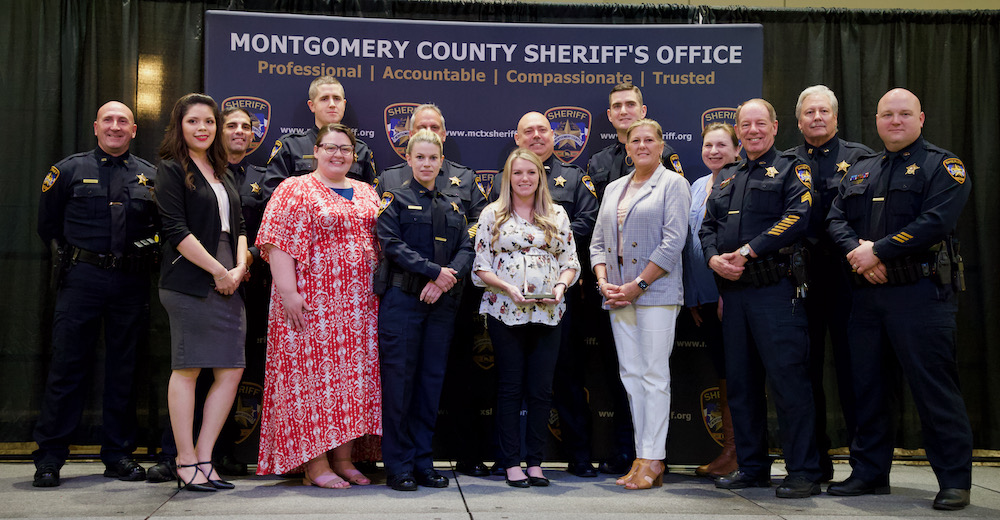 Learn more about the awards given at the ceremony at https://www.mctxsheriff.org/awards/