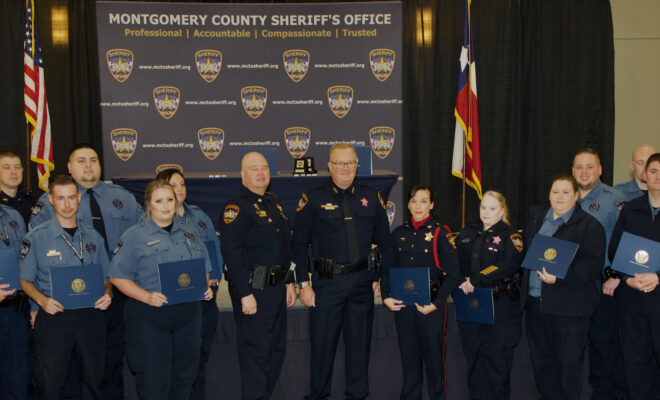 Photo Credit: Rod Prado, Hello Woodlands
Events
Montgomery County Sheriff's Office Promotion and Awards Ceremony October 19, 2021
By |
The Montgomery County Sheriff's Office Promotion and Awards Ceremony was held on October 19, 2021 at the Lone Star Convention Center in Conroe, TX. Presented by Sheriff Rand Henderson, the event acknowledged those who have shown exceptional exceptional and outstanding merits that exemplify Sheriff Henderson's goals for the agency.
View photos from the event on the Hello Woodlands Facebook page:
The Montgomery County Sheriff's Office's vision is to serve s a role model for the public safety services in our state. Their mission is to provide professional detention and law enforcement service to the community through meaningful partnerships to enhance the quality of life for citizens, businesses, and visitors through efficient and innovative public safely practices.
Along with these ideals comes their four guiding principles: Professional, Accountable, Compassionate, and Trusted. The Montgomery County Sheriff's Office's values represent their "P.A.C.T" with the community. It is the core of the unspoken and implicit agreement between citizens and their peace officers.
With each individual thoroughly reviewed and carefully chosen, Sheriff Rand Henderson has assigned those being recognized today to safeguard the community's trust through these standards.
Learn more about the ceremony, promotions, and awards presented at mctxsheriff.org/awards.
Source: Montgomery County Sheriff's Office