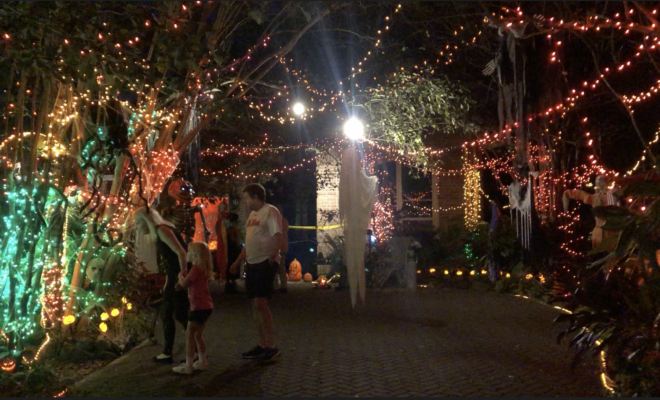 Photo by: Tiffany Marascio
Lifestyle
Must-See Local Halloween Decorations
By |
Halloween is only a few days away so be sure to check out these amazing Halloween displays. Discover a light show synchronized to Halloween music on an FM radio station, a creepy doll-themed display, two lighted pathways in front yards with interactive villains, and more!
Amber Sky Place – Watch a lighted pumpkin sing, synchronized to Halloween songs, while Jack Skellington, Zero, and friends watch from a graveyard, and more pumpkins light up! Check back at Christmas, when this house has another incredible display. Map
---
Driftoak Circle – Enter if you dare! Explore this spooky front yard complete with a fortune teller, games, candy, interactive characters, and more! This house also has a Christmas front yard pathway tour. Visit Driftoak Circle in Cochran's Crossing to find this display. Map
---
---
Grand Bayou Place – This yard is full of creepy characters with a lot to say! Look in the windows to see ghostly images that appear to be from inside the house! Map
---
Green Bend Court – Head to Lake Windcrest in Magnolia for this light show set to Halloween music! The music is set to an FM station so you can listen from your car as you enjoy the show. This display is located at the corner of Green Bend Court and Scenic Green Drive. Map
---
Mystic Lake Circle – The Haunted Garden in Cochran's Crossing takes visitors through a lighted pathway filled with interactive monsters and witches, selfie stations, and places to get candy along the way! You can find homeowner Sheila Munich visiting with her guests to make sure everyone is having a great time. The Haunted Garden is operational Friday, Saturday, and Sunday evenings from 7-9 p.m., and is located at the corner of Mystic Lake Circle and Cochran's Crossing Drive. Map
---
---
Shenandoah Drive – This front yard is covered with skeletons, lights, pumpkins, and all things Halloween! Map
---
Webb Creek – If you've ever liked clowns, you definitely won't after seeing this house! There is a giant spooky jack-o'-lantern clown, clowns sitting on chairs and swings, and reminiscent of Stephen King's It, a single red balloon coming from the storm drain! Map
---
West Greywing Circle "Doll House" – Woodlands resident Ana Bosch has created a "Doll House" out of over 100 dolls that she hand painted. The spooky mood is complete with scary music and lighting. Bosch's "Doll House" includes areas such as a Tea Room, Dance Studio, Nursery, and more. She invites Halloween lovers to enjoy viewing her decorations at West Greywing Circle in Alden Bridge. Map
Don't forget to check back for the 2021 Local Christmas Lights displays! Find more local displays on Hello Woodlands Facebook page: www.facebook.com/HelloWoodlands.