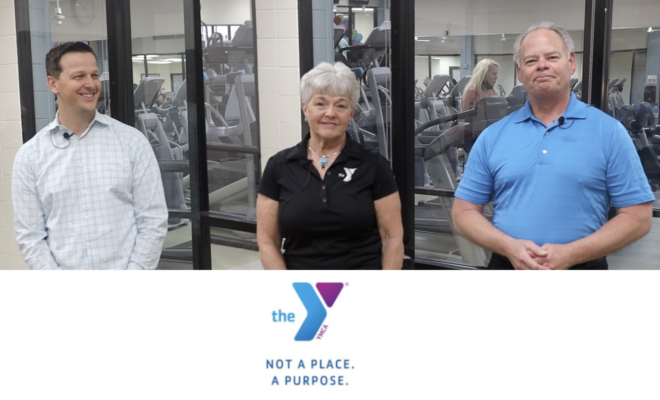 People
Nonprofit of the Month: The Woodlands Family YMCA
By |
Randy Lovelace of Paragon Independent Insurance Agencies introduces the Hello Woodlands Nonprofit of the Month, The Woodlands Family YMCA, and interviews Chris Butsch, YMCA District Executive Director, and Roxanne Davis, YMCA Community Liaison.
Watch our video interview below!
About The Woodlands Family YMCA
The YMCA is Not a Place. They are A Purpose. You might know the YMCA as gym, but others in the community know them as much more. They are more than buildings and programs. They exist to bring real change to issues affecting our neighbors.
The Y is a powerful association of men, women and children of all ages and from all walks of life joined together by a shared passion: to strengthen the foundations of community. With a commitment to nurturing the potential of children, promoting healthy living and fostering a sense of social responsibility, the Y ensures that every individual has access to essentials needed to learn, grow and thrive. The Y has long-standing relationships and physical presence not just to promise, but to deliver lasting, personal and social change. Though the world may be unpredictable, one thing remains certain – the Y is, and always will be, dedicated to building healthy, confident, secure and connected children, families and communities.
Here for Community. For more than 135 years the YMCA of Greater Houston has been an integral part of Greater Houston and Montgomery County. The current pandemic has exposed critical issues that require more action from the Y than ever before. The sustainability of YMCA services is vital to the community.
Here for All. Building on their long history of supporting communities, as well as responding to critical needs, the Y is committed to addressing social isolation, food insecurity, health disparities, learning gaps, racial inequity, and more.
The Cause: The Y is a cause-driven organization that is for youth development, for healthy living and for social responsibility. A strong community can only achieved when they invest in our kids, our health and our neighbors.
The Y is community-centered. For over 135 years, they've been listening and responding to our local communities.
The Y brings people together. All ages and backgrounds, connect to bridge the gaps in community needs. Now more than ever, that human connection is needed.
The Y nurtures potential and works with our neighbors to ensure everyone, regardless of age, income or background has the opportunity to learn, grow and thrive, regardless of ability to pay. They are committed to removing the barriers and obstacles to ensure everyone has the chance to reach their fullest potential.
The Y has a local presence and global reach. They mobilize local communities to effect lasting, meaningful change.
Areas of Focus: All of their programs and community initiatives fall into one or more of the following focus areas. For more information on all the YMCA program offerings: https://ymcahouston.org/programs
Healthier Families: The Y provides resources and programs for families to live their safest and healthiest lives. The Y assists families in battling chronic diseases and obesity, eliminating risk of drowning and preventing child abuse.
Empowered Youth: Thanks to the YMCA, more young people are taking greater interest in learning and making smart life choices. Working with caring Y staff, children and teens are able to realize their potential by improving their educational readiness and closing achievement gaps. By becoming confident kids today, the Y is helping to assure that they will become contributing and engaged adults tomorrow.
Inclusive Communities: We know that together we are stronger. The Y is committed to addressing critical social issues. Communities are stronger when everyone has the opportunity to succeed. The Y strives to serve all segments of society, build bridges between communities and advance social inclusion and equity for all.
Become an Agent of Change. The Y is proud to offer flexible membership options for every person and family designed to help you live your safest and healthiest life. Find motivation, support and community connections at the Y. In addition to accessing all YMCA centers in Greater Houston and all the programs that you love, your membership will now give you the power to help those in our community who need the Y most. https://ymcahouston.org/impact-membership
Be the Change. The YMCA believes the Y is uniquely suited to meet our community's needs. And they continue to prove it every day. There never has been a more critical time to support the work on the YMCA. Learn about their impact and support their efforts. When you invest in the Y, your dollars directly benefit individuals in your community. Help the Y deliver on our cause through a charitable donation to make their mission impact possible. https://ymcahouston.org/give-form
Learn more about The Woodlands Family YMCA's Shadowbend located at 6145 Shadowbend Place by visiting https://ymcahouston.org/locations/woodlands-family-ymca-shadowbend. Learn more about The Woodlands Family YMCA's Branch Crossing located at 8100 Ashlane Way by visiting https://ymcahouston.org/locations/woodlands-family-ymca-branch-crossing 281-367-9622.
About Randy Lovelace
To learn more about Randy Lovelace, his "Referral for a Cause" program to help local nonprofit organizations, and of Paragon Independent Insurance Agencies, please call (281) 298-0440, email rlovelace@paragoninsagencies.com or visit www.paragoninsagencies.com/woodlands.
Advertisement