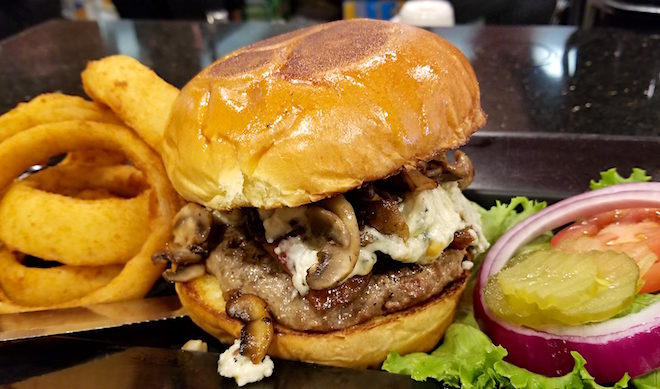 Build Your Own Burger at The Omega Grill
Food & Drink
An Interview with The Omega Grill and Burger Contest
By |
The Omega Grill opened in September of 2015 and touts itself as a family owned "modern American gourmet dining" destination with "food that makes your soul feel good." Owned by brother and sister duo Marianna and George Huliaris whose experience came from working at their parents restaurant (two doors down in the same strip center) The Olive Oil Restaurant in the Spring/Woodlands area. Located on Sawdust Road near I – 45 North, serving everything from comfort food, burgers, gourmet hot dogs, salads, soups, sandwiches and an impressive array of appetizers. The menu has a wide range of choices; from the most sophisticated palate to the pickiest of eaters, everyone will find something to their liking on the menu.
The Omega Grill uses many locally sourced ingredients where possible including 44 Farms, who are known for all natural and hormone free beef. If you're looking for an over the top burger, they have you covered with the Breakfast All Day Burger – 44 Farms beef burger patty, topped with Muenster cheese, hash browns, peppered bacon, and a fried egg…not enough? Get it on bacon waffle buns! The Omega Grill has become a go to burger destination with so many choices on the build your own burgers.
Build Your Own Burger Contest
Hello Woodlands and Nick's Local Eats are having a contest to see who can come up with the BEST build your own burger! Enter below by Thursday, August 9 at 11:59 p.m. for a chance to win a gourmet burgers dinner for four and to have your burger as a limited time special at the restaurant as the winning Hello Woodlands Burger!
Choose your Protein: 44 Farms beef, bison, lamb, chicken, turkey or Portobello mushroom.
Choose your Bun: brioche, seeded, wheat or jalapeno cheese.
Choose your Cheese: Provolone, Swiss, Muenster, white American, Shredded Cheddar,Blue Cheese, HTX Dip, or Feta.
Addons: Avocado, Peppered Bacon, Mushrooms, Bell Peppers, Fried Egg, Grilled Onions, jalapenos, or hash browns.
Sides: Did you just create burger perfection in your head? Add a side for $2 or a premium side for $3 to make it an even more perfect meal.
***The contest is now CLOSED! Stay tuned… the winner will be announced on Tuesday, August 14, 2018.***
The Omega Grill offers a Happy Hour from 3 p.m. to 5 p.m. Monday through Friday, with beer and wine specials and would be a good time to try their appetizers for a $1 Off. The famous HTX Dip  is mixed with pico de gallo, topped with fresh jalapeños, and served with made to order house-made tortilla chips. Spinach and Artichoke Dip, Chili Cheese Fries, stuffed Jalapeños and hand battered onions rings or mushrooms are just a few more options.
Craving some comfort food? Look no further than the Twisted Texas section of the menu. The Southern Bowl includes mashed potatoes with fried chicken, tenders, roasted corn, peppered bacon, shredded cheese, with your choice of cream, brown or jalapeño cream gravy. Chicken and Waffles, Chicken Fried Steak/Chicken, Fried Pork Chops, Homemade Meatloaf and The Omega Chicken Pot Pie are also delicious offerings served. The star dish would be Shrimp and Gouda Grits which is blackened shrimp on top of Omega d's signature Gouda Grits, garnished with green onions, jalapeños, tomatoes and shaved parmesan cheese …and also available with blackened catfish.
Omega Grill is known for delicious daily specials, printed on a separate menu. Past specials include Red Beans and Rice, Crawfish Bisque, Stuffed Shrimp and Southern Biscuits – Baked to order biscuits, topped with your choice of jalapeño or cream peppered bacon, sausage gravy served with peppered bacon and country potatoes! Who doesn't love breakfast for dinner?
The Omega Grill did not forget about young kids, they offer a great selection of kids meals also. Hamburgers, Chicken Tenders, Meatball Subs, All Beef Hot Dogs and Grilled Cheese.
Top off your meal with one of their desserts, the cakes here look and taste heavenly. Chocolate Truffle, Carrot or Italian Cream are available, and made by Take The Cake Bakery in Houston.
The newest addition to the menu are some adult floats. 8th Wonder Rockets Fuel (Vietnamese Coffee Porter) and Ice Cream go as well together as peanut butter and chocolate.
THE INTERVIEW
Hello Woodlands sat down with George and Marianna to ask them more about their family restaurant.
Where did the name Omega Grill come from?
George: "We went through about 20 names before deciding on The Omega Grill. In the Greek alphabet Omega is the last letter, it also represents the numeric value of 800 which means "great value" We also wanted people to be able to recognize that we are affiliated with The Olive Oil so they would know that we have the same standard of food quality."
What did both of you learn from your parents and working at the family restaurant The Olive Oil before stepping in to your own restaurant?
Marianna: "I basically grew up at The Olive Oil. My parents have always worked so hard and have taught us everything they know. The reward when you see someones face light up from a great meal your family produced is priceless. From the front of house, customer service, tweaking recipes in the back we do all of that."
George: "My mom has been working in restaurants since she was 12 and for as long as I can remember if we had days off of school or had to go to work with her on the weekends, you would see us sitting in a chair behind the counter or in the office absorbing the environment. By the time I was 7 years old I knew all the keys on the cash register, so many things come as second nature but we are still learning new things every day."
What challenges did you have at first running your own restaurant?
Marianna: "I've worked as a bartender and server and there's things that as a server/bartender that you don't even have think about. My mind is constantly moving a mile a minute because of the many different components of restaurants."
How does the brother and sister Co-owners dynamic work?
George: "Really well, in my opinion. One of us are here at any given time to make sure that everything runs smoothly. Sister and I have always had a good relationship, so working with her and building something like that restaurant from the ground up has been incredibly rewarding and I couldn't be more proud of my little sister for helping me through."
Why did you decide to have so many local companies and ingredients on your menu?
Marianna: "We decided to keep things local to support our community and ensure we're getting the freshest products available."
I heard you mention Bravado Spice, in a market saturated with hot sauce vendors, why did you choose them?
"They have the best damn hot sauces around! We adopted creators of Bravado Spice James and Jeremiah into our family about 10 years ago and we couldn't be more proud of the product they are producing. Bravado Spice is made here in Houston, they are 100% natural and gluten free."
How do you choose what beers to serve on tap and what bottles do you carry?
George: "We like to do seasonal and new beers on draft to see how people respond and keep everyone's s favorites in bottles and cans."
What can someone expect for the first time they come for a meal at The Omega Grill?
Marianna: "Fresh ingredients and a full plate!"
What do you say when someone says "$8 for a Hot Dog!" ?
George: "They're gourmet all beef Farm 44 hot dogs that are all natural and hormone free! We have people come in multiple times a week for our hot dogs because they are THAT good."
What are your go to favorites on the menu?
George: "I would say I order the fried pork chops and the chicken pot pie are my favorites, but I eat the French dip at least 3 times a week."
Marianna: "The spicy shrimp po-boy, fried mushrooms, the chop it salad, French dip sandwich and you can't go wrong with a cheeseburger."
Any healthier options on the menu? Will you customize someones order for dietary restrictions?
Marianna: "We have fresh fish tacos with pineapple pico de gallo, " Be healthy, go grilled" section under our twisted Texas portion of the menu where customers have there options to do salmon, chicken, ribeye, beef tenderloin, tilapia, snapper or shrimp, grilled or blackened, served with rice and mixed vegetables. Absolutely, we will do whatever we can to make someone with dietary restrictions have a nice meal out."
What are some of the more popular Happy Hour appetizers?
George: "Our Naked Wings are very popular, but people go crazy for our Spinach Artichoke Dip."
What was the inspiration for your "Twisted Texas" portion of the menu?
Marianna: "Inspiration came from everywhere! I, myself am a huge foodie and will travel great distances to try the best foods I can so I take all the things I learn from my 'research' and twist it into things I think people in our area will love."
What are your most decadent desserts?
George: "The chocolate truffle cake is sooooo good! I usually heat it up a little bit and then get a scoop of ice cream with it."
Are you family/kid friendly?
Marianna: "Yes! Most of the kids who come in LOVE our chicken and waffles."
Who designed the interior of the restaurant and what was their inspiration?
George: "We both had a hand in designing the restaurant, we wanted something that would be home-y and comfortable but still edgy and modern."
Do you have plans for a second location?
Marianna: "Not at the moment, but maybe in the future!"
What is the secret to Omega Grill's success?
George: "Fresh ingredients, attention to detail, awesome food, good music, local support, and a friendly staff definitely help. It always seemed like there wasn't a ton of viable options for healthy food out here in the Spring Woodlands area. Everything feels like a fast food or chain restaurant, so I wanted to bring some fresh, local, healthy, real food variety out here and I think the community has recognized that and have been showing us love because of it."
Any plans for new items or to expand the menu?
Marianna: "We're always adding new things to our menu. We have daily features and we test out new recipes on there everyday, things that do well we move to the full menu."
5 Words To describe The Omega Grill?
"Fresh, homemade, made with love."
Learn more about the Omega Grill and their delicious menu by visiting www.theomegagrill.com and follow on Facebook at Facebook.com/TheOmegaGrill.
Nick Rama is a food writer, contributor of Hello Woodlands, and shares his restaurant experiences on Nick's Local Eats at NicksLocalEats.com and the Q Up The Burgers Facebook page. Nick enjoys helping the small business owner, supporting his community with fundraising for food banks, and plans tasting events with locally owned mom and pop restaurants.