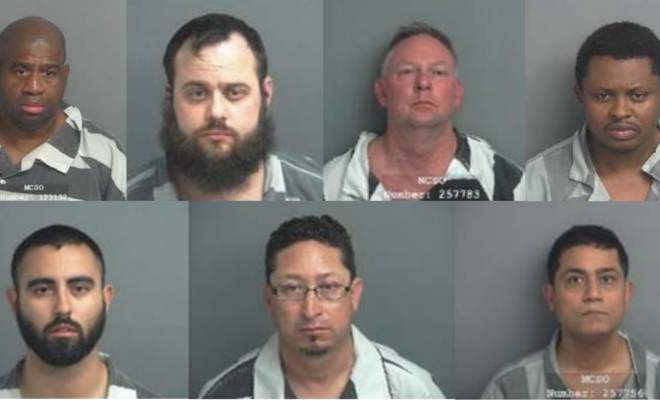 News
Operation Broken Heart: 8 arrested in Prostitution Sting
By |
On Monday, February 11, 2019 and Tuesday, February 12, 2019 the Montgomery County Sheriff's Office Organized Crime Unit, Montgomery County DA's Office, Houston Police Department Human Trafficking and Criminal Investigative unit, Conroe Police Department, and Homeland Security Investigations (HSI) conducted a joint proactive human trafficking operation, titled "Operation Broken Heart." This two day investigation was designed to target numerous prostitution and human trafficking related activities flooding the Internet. A total of eight persons, including one juvenile were arrested for alleged prostitution while soliciting undercover Detectives for sex.
Detectives from the Montgomery County Sheriffs Office have received numerous complaints involving prostitution activities on the internet and in each of the complaints received, investigations have resulted in at least one or more arrests by the Montgomery County Sheriffs Office Organized Crime Unit for prostitution. This most recent joint agency operation focused on those persons involved in utilizing illicit adult websites to solicit prostitution. In order to address these ongoing problems, law enforcement agencies conducted reverse prostitution investigation, where by decoy female police officers posed as an escort from the website. Advertisements for the illegal acts mirrored previous postings found on various Internet websites used for sex trafficking.
These proactive operations will continue in an effort to thwart individuals from purchasing sexual acts from women, especially those women placed into situations that it is not by choice. This demand for illicit sexual acts must be addressed to stop human trafficking.
Sheriff Rand Henderson states, "The Montgomery County Sheriff's Office and its law enforcement partners will continue to be proactive in the fight against human trafficking. Through our enforcement actions and working with our partners, we will continue to arrest and prosecute those who engage in sex trafficking and rescue those who have been forced into trafficking."
Source: Lieutenant Scott Spencer , Montgomery County Sheriffs Office, Executive Division