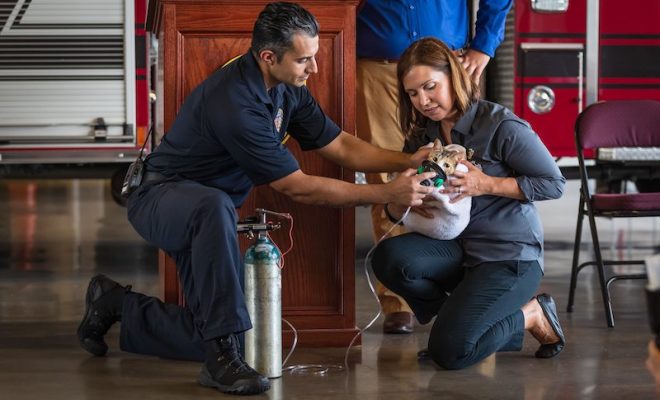 Photo by Spring Fire Department
News
Pets to Breathe Easier in thanks to Project Breathe
By |
Spring, TX – The Spring Fire Department, Cypress Creek EMS, Tomball Fire Department and Northwest Community Health are teaming up with Invisible Fence of Greater Houston to help reduce the number of pets killed or injured in house fires each year. It is estimated that between 40,000 to 150,000 pets die each year in residential fires.
Invisible Fence of Greater Houston has donated nearly 50 pet oxygen mask kits to the four Northwest Harris County public safety organizations. Nine pet oxygen masks will go to the Spring Fire Department's nine stations. Thirty pet oxygen mask kits will outfit each of the paramedic vehicles for Cypress Creek EMS. Tomball Fire Department will receive three pet oxygen mask kits for their three fire stations, and seven pet oxygen mask kits to will go to outfit each of Northwest Community Health's EMS units. The pet oxygen mask kits will help resuscitate a dog, or cat, when found in a burning home, and are made possible through Invisible Fence Brand's Project Breathe Program. The Project Breathe Program has donated over 8,000 kits to Fire and EMS departments throughout the U.S. and Canada.
In residential fires, rescue personnel want to help pets, but often have not had the proper equipment to do so. In the past firefighters and EMS personnel have used other equipment or even tried adapting human oxygen masks to fit an animal, but human masks don't fit properly over the nose of dogs and cats and thus do not provide a necessary supply of oxygen. The mission of Project Breathe is to provide local Fire and EMS departments the specialized equipment needed to do so.
The plastic, cup-shaped animal resuscitation masks, which come in three sizes, were originally developed for use by veterinarians. They seal around the muzzle of an animal tighter than a human mask. This helps firefighters and medics deliver the right amount of oxygen to the pet to help save their life.
Source: Tracee Evans, Spring Fire Department