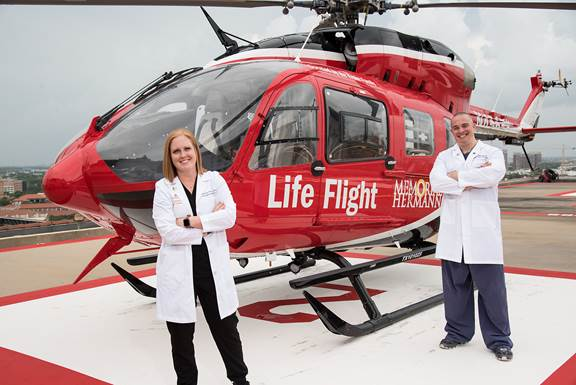 Health
Memorial Hermann Life Flight Announces New Leadership
By |
HOUSTON, TX – The Red Duke Trauma Institute at Memorial Hermann-Texas Medical Center is proud to announce two new leaders for the Memorial Hermann Life Flight® program. Lesley Osborn, MD, emergency medicine physician and assistant professor of emergency medicine at McGovern Medical School at UTHealth, has been named Medical Director of Life Flight, and David Meyer, MD, trauma surgeon and assistant professor of surgery at McGovern Medical School, has been named the program's Assistant Medical Director.
"We are excited to have Drs. Osborn and Meyer join the Life Flight team. Dr. Osborn's experience and expertise in emergency medicine make her an ideal leader to carry the program forward," said Tom Flanagan, Vice President of Trauma Service Line and System Integration for Memorial Hermann Health System. "Drs. Osborn and Meyer will help build upon Life Flight's 40-year legacy of providing high-quality, pre-hospital care to Greater Houston and its surrounding areas."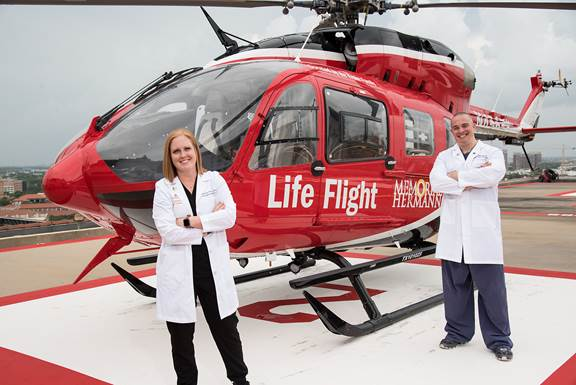 Life Flight, the only hospital-based air ambulance service in Houston, retrieves critically ill and injured patients within a 150-mile radius of Red Duke Trauma Institute, where patients can receive life-saving care. Since the program was founded in 1976 by legendary trauma surgeon James H. "Red" Duke Jr., MD, it has flown more than 140,000 missions. Dr. Duke served as the program's first and only medical director until his death in 2015.
Dr. Osborn is Life Flight's third medical director. In her role, she provides clinical oversight for Life Flight's 21 flight nurses and 18 paramedics and dispatchers by developing and maintaining best practice medical protocols, reviewing patient records for appropriate application of medical care and preparing for flight review. In addition, she is responsible for continuing medical education for the crews and guidance on research, quality improvement and professional development.
"I am extremely humbled to lead one of the country's first hospital-based air ambulance services and to be part of such a rich history and legacy, working alongside the paramedics and flight nurses," Dr. Osborn said. "I am passionate about the role of pre-hospital care in saving lives and will continue the precedent that Dr. Duke set for delivering the highest quality care possible to our patients in the Greater Houston and Southeast Texas areas."
Dr. Osborn earned her bachelor's degree from Clemson University and her medical degree from the University of South Carolina School of Medicine. She completed her residency in emergency medicine at Palmetto Health. In 2016, she served her fellowship in emergency medical services (EMS) at the Red Duke Trauma Institute and UTHealth and became a full-time faculty member in 2017. Dr. Osborn is board certified in emergency medicine and EMS. Dr. Osborn was commissioned as a captain in the Medical Corps of the U.S. Air Force and Air National Guard in March 2018 and currently serves in this role as a member of the 169th Medical Group in McEntire, S.C.
Dr. Meyer, a native of Raleigh, N.C., earned his bachelor's and master's degrees from East Carolina University. He earned his medical degree from The Ross University School of Medicine and completed his residency in general surgery at the University of Arizona. Dr. Meyer joined UTHealth and the Red Duke Trauma Institute in 2015 as a fellow in trauma and surgical critical care. He joined the UTHealth faculty in 2017.
"It is a privilege to serve as the new assistant medical director of Life Flight," Dr. Meyer said. "I look forward to working alongside Dr. Osborn and the many experienced, highly-skilled professionals as we provide life-saving support to Southeast Texas residents."
For more information about Memorial Hermann Life Flight, visit trauma.memorialhermann.org/life-flight/.