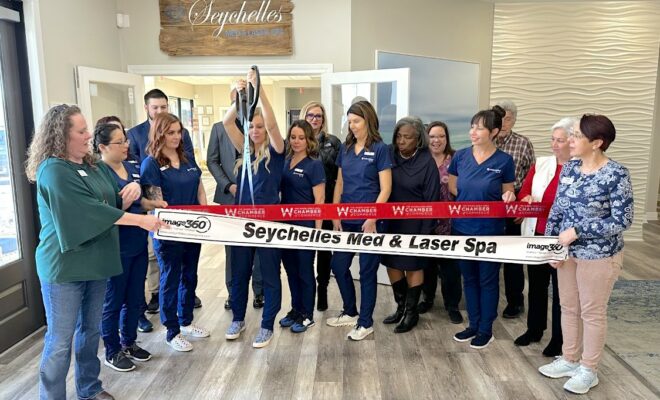 Photo Credit: Jennifer Bruse
Business
Ribbon Cutting for Seychelles Med and Laser Spa and Waves Salon in The Woodlands
By |
On Friday, February 3, 2023, Seychelles Med & Laser Spa and Waves Salon celebrated their Ribbon Cutting with The Woodlands Area Chamber of Commerce and welcomed the community to view their newly renovated space located at 25230 Borough Park Drive in The Woodlands.
View photos from the event on the Hello Woodlands Facebook page and on Instagram:
Lychelle and Leonard Jomsky, owners of the newly renovated building and local businesses Seychelles Med & Laser Spa and Waves Salon, opened Seychelles in 2014. After purchasing the building – including the adjoining salon space and upstairs – the Jomskys began the renovation of the building and opened Waves Salon in 2021. Their Grand Re-Opening Celebration held on October 20, 2022 celebrated the completion of the renovations and welcomed Dr. Joseph Perlman of Advanced Plastic Surgery Center and his staff in the upstairs suite.
Advertisement
Seychelles Med & Laser Spa's mission is to provide the most advanced aesthetic and cosmetic procedures in a comfortable and relaxing setting. Seychelles creates a soothing environment reminiscent of the cool colors of the ocean and the beautiful islands the spa is named for. They use the most advanced treatment techniques and equipment to maximize results and to ensure the safety of their clients. At Seychelles they emphasize in-depth consultations and planning along with maintaining a personal client relationship to ensure you are the best you can be. Learn more about Seychelles Med & Laser Spa and schedule a complimentary consultation by calling (832)813-8086 or visit SeychellesMedSpa.com.
Waves Salon's mission is to provide a unique experience unlike any other in The Woodlands. All areas of the salon are filled with natural lighting, allowing their stylists to create amazing color transformations. They are passionate about creating a relaxed, memorable experience with impeccable client relations. Their highly trained and talented hair stylists take pride in finding out what your hair goals are and also equipping you with the knowledge to recreate your amazing style at home. Waves Salon's vision is to change the standard of booth rental and provide all of their team members with everything they need to be able to grow to their fullest potential, freeing them up to focus on their artistic talents and clients. Learn more and schedule your appointment by calling (832) 464-7464 or visit WavesWoodlands.com.
The Woodlands Area Chamber of Commerce serves as the pathway to opportunity for the Greater Houston business community. We work to improve the area's economy by advocating for the business community, creating marketing and networking opportunities, serving as a professional and community resource and supporting local nonprofits. The Chamber is made up of thousands of business and civic leaders who have joined together to promote jobs, economic growth and strong communities. As the largest business association in Greater Houston, we represent more than 1,300 area employers on the local, county, state and national level. Learn more at www.WoodlandsChamber.org.