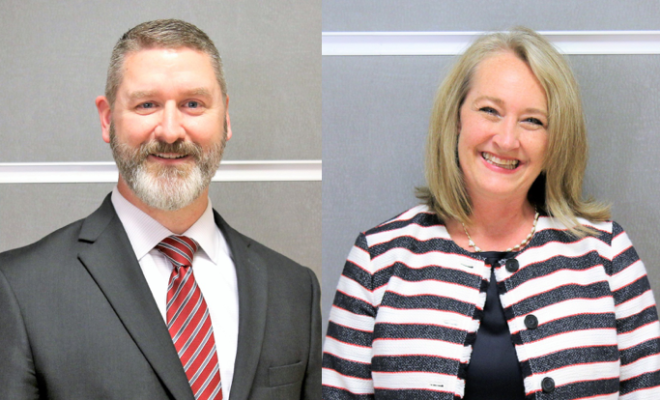 News
San Jacinto Elementary and The Woodlands High School Principals Named
By |
CONROE, TEXAS – At their June 5 meeting, the Conroe ISD Board of Trustees named two new principals for the coming school year.
Jamie Almond was named the new principal of San Jacinto Elementary. In her remarks to the Board, she stated, "I am honored to serve Conroe ISD as the principal of San Jacinto Elementary. Thank you for your trust and confidence in me to lead the students and staff as together we join hands, hearts, and minds to pursue excellence for our Caney Creek community."
Mrs. Almond has served in a variety of capacities throughout her educational career. In Conroe ISD, she has served as a language arts teacher at Wilkerson Intermediate, Glen Loch Elementary, and Lamar Elementary; an instructional coach at Sam Houston Elementary; and, most recently, an assistant principal at Broadway Elementary. She is filling the position previously held by Krista McWilliams.
The Trustees also named Dr. Ted Landry as principal of The Woodlands High School. Dr. Landry is filling the position formerly held by Gregg Colschen. Mr. Colschen was named Assistant Superintendent for Secondary Education at a previous Board Meeting.
Although coming to Conroe ISD from Humble ISD where he served as principal of Kingwood High School, Dr. Landry previously served in the District as a guidance counselor at Conroe High School from 2000-2002.
Addressing the Board, he said, "First I'd just like to say 'Thank You' for this fantastic opportunity. Anyone who has spent any time in the Houston area knows about The Woodlands and the traditions of excellence and culture of success which is The Woodlands High School. Just to be considered to be the principal of The Woodlands High School is a tremendous honor…to be selected for it is an absolute dream. I can assure you that I will do my very best to uphold all of the values and traditions which have made The Woodlands High School one of the very best schools in the state."
Both newly named administrators were joined by family and friends in the audience.