Events
Shakespeare Festival Coming to The Woodlands Saturday, June 15
By |
THE WOODLANDS, TX – The inaugural Montgomery County Shakespeare Festival has been announced for Saturday, June 15, at Rob Fleming Park and Pavilion in The Woodlands. The festival is presented by Friends of Shakespeare Houston, a nonprofit organization dedicated to bringing quality family entertainment to the Montgomery County area.
The festival will take place from 2:00 to 8:00 p.m. and will include a kids' area, vendors, food trucks, arts and crafts booths, and not one but two Shakespearean performances: the classic The Taming of the Shrew at 3:00 p.m. and the comedy Measure for Measure at 6:00 p.m.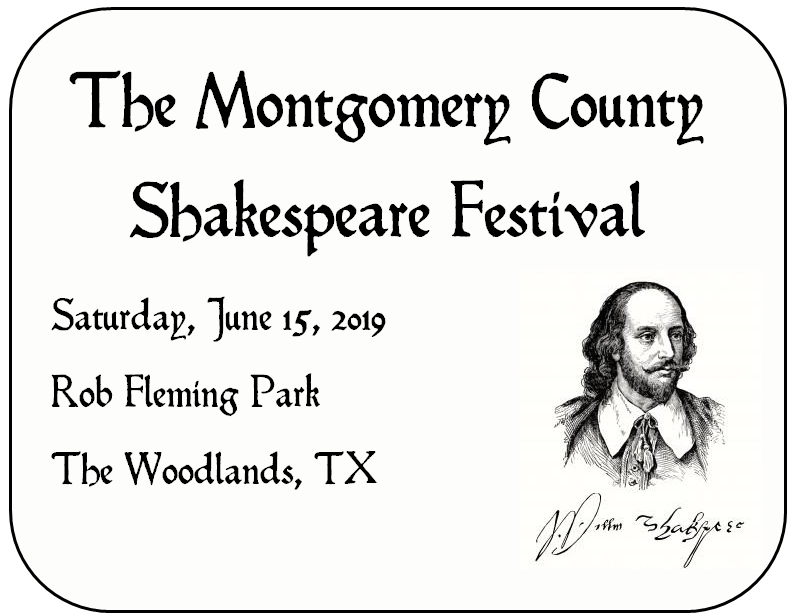 "After three years of being intimately involved with the production of the Conroe Shakespeare Festival for the past three years, I and my business partners decided it was time to extend beyond the Conroe city limits and bring a worthy festival to the entire county," said John Barton, executive director of Friends of Shakespeare Houston.
The festival will spend each year at a new location somewhere in Montgomery County. For its inaugural year, it was decided to hold it in The Woodlands at Rob Fleming Park, located at 6055 Creekside Forest Drive.
"For the past several years, The Woodlands Township has played host to the popular annual Arts in the Park – Shakespeare in the Park program, of which we've been a proud partner, so we know how much the local audiences crave such a festival," said Barton. "Our special day on June 15 also serves as something to whet the appetites of lovers of the Bard for this year's Arts in the Park in September with a production of Macbeth in conjunction with The Woodlands Symphony Orchestra."
Sponsorship opportunities and vendor spaces are still available for a limited time; for more information, contact montgomerycountyshakespeare@gmail.com.