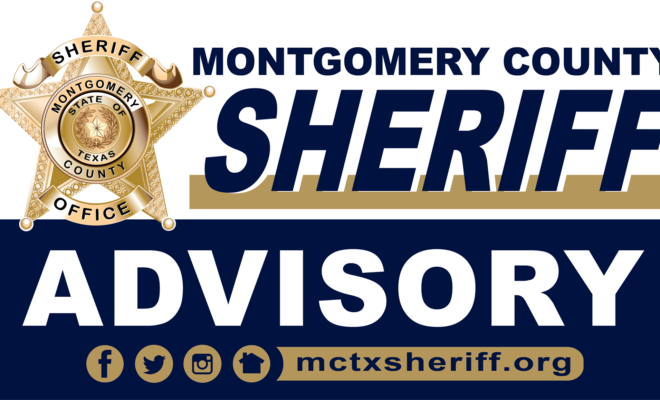 News
Sheriff investigates Incident on Lone Star Hiking Trails
By |
On May 14, 2021 the Montgomery County Sheriff's Office responded to a call for assistance from an adult female who believed she was being chased while hiking on Lone Star Hiking Trail #3 in the North West corner of Montgomery County. Upon arrival, a Patrol Sergeant met with the woman as she was exiting the trails where she parked her car. During the investigation it was learned the female was hiking on the trail when she alleged she observed a male wearing no clothing, but carrying an unknown article of clothing, emerge from the wooded area in her direction. The female advised she turned and ran in the opposite direction and believed the male was chasing her, but confirmed that she "…kept running and didn't look back."
While Deputies were on scene the male exited the trail head (dressed but without a shirt) and was detained for investigation. When questioned, the male eventually admitted that while hiking on the trail he had to defecate and so he removed his clothing to do so. The male stated he never chased the female during this incident, and stated he hadn't seen anyone while in the woods.
The 53 year old male, identified as Scott Alexander Stephens, was arrested for Disorderly Conduct and booked into the Montgomery County Jail.
MCTXSheriff would like to remind the public to consider options to help increase your personal safety when hiking in the national forest. We frequently respond to lost people as well as other emergency calls for service and would like to recommend the following for your consideration:
Hike with a partner or in small groups – not only is there safety in numbers but if one is injured, at least another person is there to help.
Pack more than you think you will need: Water, snacks, cell phone battery pack, flashlight, etc.
Download maps or bring hard copies in case cell signal isn't available.
Let friends or family know your route and planned completion time, so they can alert emergency services if you do not return on time or cannot be reached.
Source: Steve Squier, Specialist, Montgomery County Sheriff's Office, Administrative Services