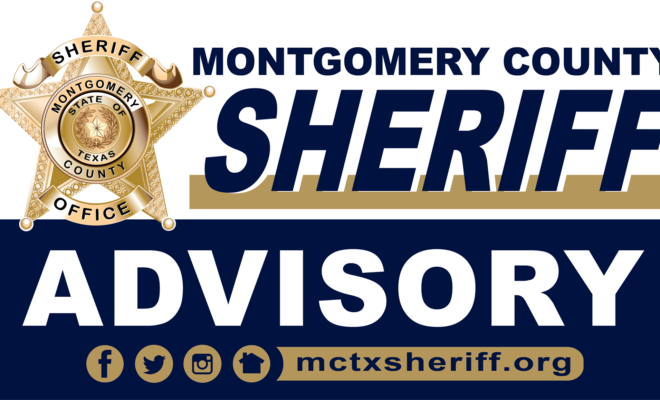 News
Sheriff tracks down Burglary Suspect
By |
In the month of June, the Montgomery County Sheriff's Office West Patrol Division has responded and investigated multiple burglaries of a motor vehicle in the area of Magnolia, Texas. Montgomery County Sheriff's Office Deputies responded to multiple Burglary of Motor Vehicles in the Clear Creek Forest, Indigo Lakes, Ranch Crest, Dogwood Hills and Timberloch subdivisions along Nichols Sawmill Road in Magnolia. Most of the cases included unlocked vehicles with valuables left inside. Items stolen from the vehicles included several thousand dollars in cash money, purses, wallets, credit cards, driver licenses, prescription medications, computers, iPad's and firearms.
On June 29, 2019, Montgomery County Sheriff's Office Deputies and Detectives, working in conjunction with the Precinct 5 Constable's Office were able to identify a 16 year old juvenile as a suspect. The juvenile suspect was identified as a run-away from a Harris County juvenile half way house and is well known to law enforcement. Montgomery County Sherriff's Office Deputies worked through the night and into Saturday following leads to locate the suspect. On Saturday afternoon, law enforcement located the juvenile suspect in the 38000 Block of Miranda Lane, Magnolia, TX and was taken into custody after a brief foot chase. At the time of his arrest, the juvenile was found in possession of stolen property from four (4) burglary cases. Montgomery County Sheriff's Office Detectives interviewed the juvenile who confessed to committing multiple Burglary of Motor Vehicle offenses and selling the property through social media sites. The juvenile was booked into Montgomery County Juvenile Detention on the outstanding Abscond from Justice Warrant and charged with Burglary of Vehicle, Burglary of Building and Theft of Firearm. Detectives are still investigating the cases and are still attempting to locate property belonging to victims.
If you have any information about these cases please contact the Montgomery County Sheriff's Office 936-760-5800 or Multi-County Crime Stoppers 1-800-392-STOP (7867) and refer to case#19A205959.
Montgomery County Sheriff's Office would like to remind you to make sure you Take your valuables inside, Lock the doors to your cars and homes, and Conceal all valuables left behind. Taking just a little bit of time out of your busy day to make sure everything is locked up can save you time tomorrow.
Source: Specialist Thomas Smith, Montgomery County Sheriff's Office, Executive Division