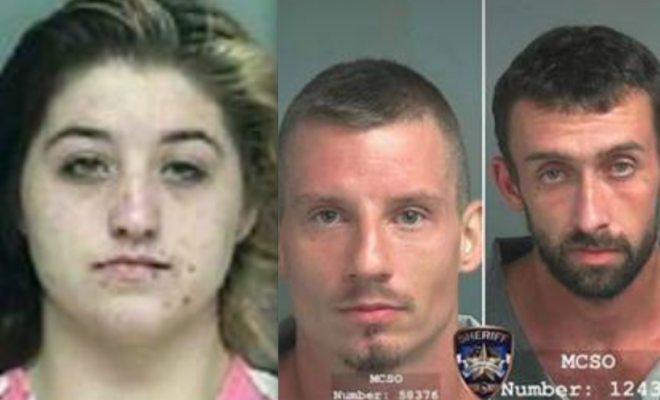 News
Sheriff's Office Arrest 2 Burglars, One Still at Large
By |
Monday, July 30, 2018, Deputies with the Montgomery County Sheriff's Office were dispatched to Thornton's RV Repair and Storage Center located at the 20800 FM 1488 Magnolia, TX in reference to a burglary. When Deputies arrived they discovered that numerous motor homes, travel trailers and storage units were broken into over the weekend. The suspects had stolen various items including a homemade utility trailer. Through the hard work of Detectives and Crime Scene Investigators, Detectives recovered photographs and other evidence of three suspects (2 males and 1 female) committing the burglaries.
The Montgomery County Sheriff's Office in partnership with the Montgomery County Precinct 5 Constable's office identified all three suspects as Randall Coleman (W/M) 31 of Magnolia, Travis Trivett (W/M) 27 of Magnolia and Joclyn Gray (W/F) of Magnolia. Detectives learned that both Coleman and Trivett were in custody on unrelated charges and additional charges of Burglary and Engaging in Organized Criminal Activity were added. They currently remain in jail custody.
Joclyn Gray remains at large with an active felony warrant for Engaging in Organized Criminal Activity (F3). Anyone with the knowledge of the whereabouts of Joclyn Gray is asked to call the Montgomery County Sheriff's Office at 936-760-5800 or Montgomery County Crime Stoppers at 1-800-392-STOP (7867). Crime stoppers will pay up to $1,000.00 for information leading the her arrest. All callers will remain anonymous.
Source: Lieutenant Scott Spencer, Montgomery County Sheriff's Office, Executive Division