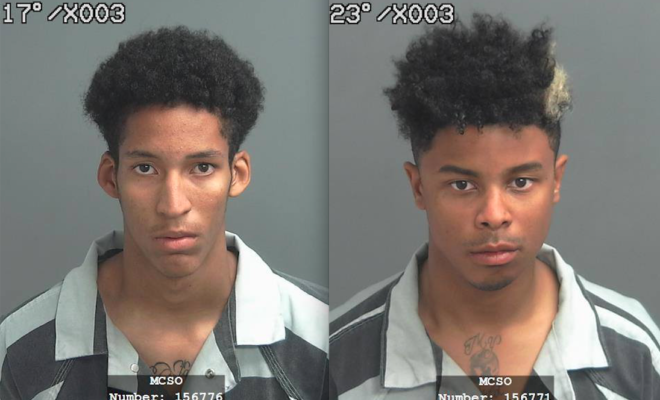 News
Sheriff's Office Arrest Two for Shooting Incident in Spring
By |
On Sunday, October 29, 2017, Deputies with the Montgomery County Sheriff's Office were dispatched to a disturbance in progress in the 4800 block of San Antonio River Drive. While in route, Deputies were advised that numerous individuals were involved in a physical altercation that had escalated with the suspects firing a gun at several other individuals. During the shooting, a 15 year old male was struck in the leg with non-life threatening injuries. 

Upon arrival, Deputies learned the suspects had fled the scene in a vehicle. Sheriff's Deputies notified responding and surrounding law enforcement agencies, which led to the suspect vehicle being located by Deputies with the Precinct 3 Constable's Office. As the vehicle was being stopped one of the occupants of the vehicle discarded a firearm from the vehicle. Both suspects were safely taken into custody.

During the investigation it was learned that the suspects came to the victim's residence in the 4800 block of San Antonio River Drive, and a verbal altercation escalated into a physical altercation. During the altercation, a 19 year old male retrieved a firearm from the residence and ordered the two male suspects to stop fighting and leave. One of the male suspects retrieved a firearm from his waistband and discharged six rounds at the other males, striking the 15 year old male.
The suspects were arrested and transported to the Montgomery County Jail without further incident.
Arrested: Johnathan Fernandez (B/M) DOB 12-15-96 Charged with Aggravated Assault with Deadly Weapon
Arrested: Dmarcus Joseph (B/M) DOB 01-16-99 Charged with Tampering with Evidence
Source: Lieutenant Scott Spencer, Montgomery County Sheriff's Office, Executive Division