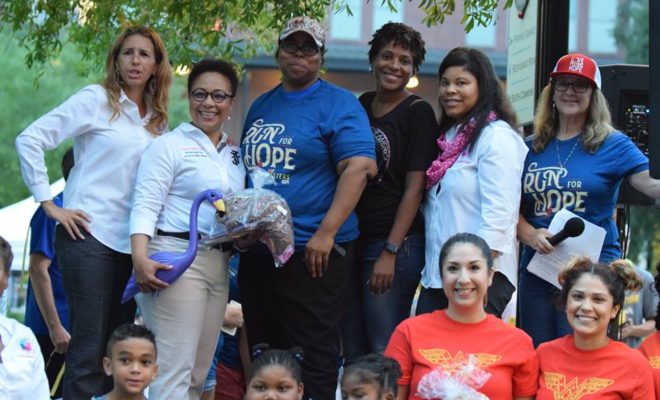 Events
Gifts donated to local foster children at Run For Hope
By |
Run for Hope was held on Saturday, October 21, 2017 as the 7th Annual Child Abuse Awareness Event & Fundraiser for Love Fosters Hope. The event included 10K and 5K race as well as a 1 mile fun run/walk at Market Street in The Woodlands.
Love Fosters Hope is a Texas-based non-profit organization with many facets, but one purpose: to impact the lives of children and teens in foster care who have been abused, neglected or abandoned.
During the 2017 Run for Hope opening ceremony, gifts were presented to the local Office of Child Protected Services.
The South Charlotte North Carolina Chapter of Jack and Jill forwarded gift bags to The Woodlands Chapter of Jack and Jill to be distributed to the children of Houston who were impacted by Hurricane Harvey.  The South Charlotte Chapter's children (3th through 5th graders) not only wrapped packages including a book, a toy or crayons, and a set of brand new pajamas, but also placed hand written notes of encouragement for each future recipient.
The gifts were donated to local foster children who suffered as a result of Hurricane Harvey. As a coalition effort, The Woodlands Chapter of Jack and Jill presented the gift bags through Love Fosters Hope.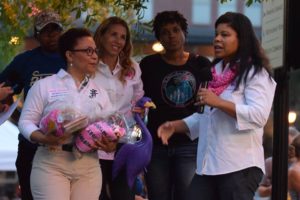 Cindy Mericle, Love Fosters Hope Execute Director, coordinated the Chapter's distribution effort and assisted with presenting these gifts to the Program Director of  Child Protected Services (CPS), Lisa Fischer.  Ms. Fischer oversees four Regions including Montgomery County.
Learn more about Love Fosters Hope at lovefostershope.org.
Learn more about The Woodlands Chapter of Jack and Jill at www.jackandjillthewoodlands.com.