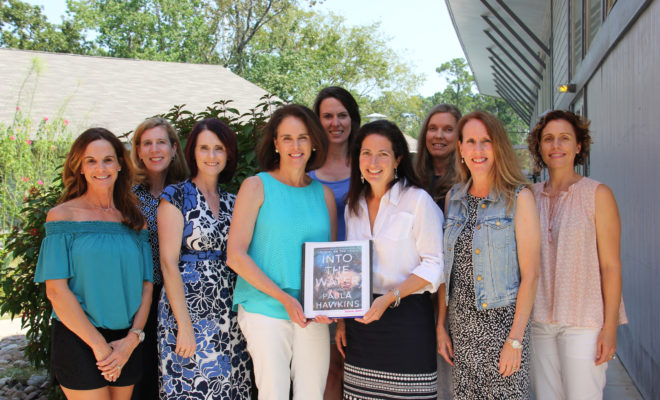 Events
Signatures Author Series to feature Paula Hawkins, "Girl On The Train" Author
The John Cooper School is preparing to host the 13th Annual Signatures Author Series, a highly anticipated luncheon event that features a keynote author, the opportunity to talk to and purchase books from visiting authors as well as promote literacy in the greater Houston area. The 2017 event, sponsored by The John Cooper School Fine Arts Council, will feature Paula Hawkins, author of suspense thrillers, Girl On The Train and Into The Water, on Friday, December 8 at The Woodlands Waterway Marriott Hotel and Convention Center.
Paula Hawkins is the author of the #1 New York Times bestselling suspense thriller, The Girl on the Train, that was also an international #1 bestseller, published in 50 countries and in over 40 languages. The book has sold over 18 million copies worldwide and was adapted into a major motion picture.
Hawkins released a subsequent thriller, Into the Water in May of this year, that People Magazine said, is "a captivating contemporary whodunit… suspense churns and the plot keeps you guessing." The Wall Street Journal said of her new book, "Highly suspenseful… all these intrigues are teased out with impressive skill by Ms. Hawkins, who tells a complex narrative… in a chronicle whose final pages yield startling revelations." Hawkins was born in Zimbabwe, worked as a journalist for 15 years and now lives in London.
The 2017 Signatures luncheon will also feature 15-20 visiting authors, book signings and drawings. As is tradition, a portion of the proceeds from the event will be given to support literacy efforts in our community. This year's designees are the Montgomery County Memorial Library System and the Barbara Bush Library.
The John Cooper School has sponsored the highly popular Signatures event for the past 12 years, featuring such best-selling authors as Barbara Bush, Dave Barry, Mitch Albom, Anthony Bourdain, John Grogan, Nicholas Sparks, Candace Bushnell, Kathryn Stockett, Jodi Picoult, Tyler Florence, Gillian Flynn and Cheryl Strayed.
The continued success of the Signatures luncheon is made possible by sponsorships at varying levels, ranging from individual seats for $150 to table sponsorships at $10,000, $5,000, $3,500 and $2,500 levels. Early registration is recommended for the best seats and seating is limited. Higher level sponsorships have the opportunity to attend a VIP reception and book signing with the author. For more information on sponsorship opportunities, please go to www.johncooper.org/specialevents.
SCHEDULE OF EVENTS
Friday, December 8, 2017
The Woodlands Waterway Marriott Hotel and Convention Center
10:00 AM: Registration and Visiting Author Book Signings Begin
10:30 AM: VIP Underwriters Reception with Paula Hawkins
Noon: Lunch is served, followed by Keynote Presentation
Book signings with Keynote Author and Visiting Authors following the luncheon
Reservations are available at https://www.johncooper.org/Page/Giving–Events/Special-Events/Signatures-Author-Series or contact the Advancement Office at 281-367-0900 x2441 or advancement@johncooper.org
PHOTO: Steering Committee members for the 2017 Signatures Author Series are Patty Black, Sandy Mahler, Lisa Hollingsworth, Susan DeMarco (co-chair), Denise Bod, Christie Swanbeck (co-chair), Malin Melin, Patty Carter and Michaela Durisek. Not pictured are Janet Osmond, Brandey Porter and Christine Winston.
Source: Deb Spiess, The John Cooper School