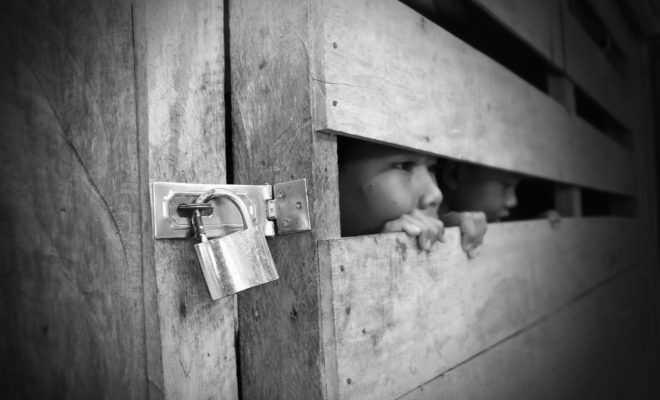 News
Sheriff's Office Partners with Human Trafficking Rescue Alliance
By |
The Montgomery County Sheriff's Office and the Montgomery County District Attorney's office have announced that they have officially begun participation in the multi-jurisdictional Houston Police Department Human Trafficking Task Force unit also known as the Human Trafficking Rescue Alliance-Southern District of Texas. The Task Force's primary mission is Prevention-Protection-Partnership and Prosecution of those associated with Human Trafficking.
In 2004, the United States Attorney's office in Houston formed the Human Trafficking Rescue Alliance (HTRA) to combine resources with federal, state, and local enforcement agencies and prosecutors, as well as non-governmental service organizations including YMCA International to target human traffickers while providing necessary services to those that the traffickers victimized. Since its inception, HTRA has been recognized as a national model in identifying and assisting victims of human trafficking and prosecuting those engaged in trafficking offenses.
In 2016, the Human Trafficking Rescue Alliance received $1.5 million in federal funds from the Bureau of Justice Assistance and the Office for Victims of Crime through the Enhanced Collaborative Model Anti-Human Trafficking Task Force Program, which provides funding to investigate and prosecute cases of human trafficking and provide services to victims.
HTRA law enforcement includes members of the FBI, Immigration and Customs Enforcement's Homeland Security Investigations (HSI), Houston Police Department, Sheriff's offices in Harris and Montgomery counties, Texas Alcoholic and Beverage Commission, Texas Attorney General's Office, Department of State, Department of Labor, IRS and the Texas Department of Public Safety.
Under Texas law, the crime of human trafficking occurs when an individual receives or benefits from labor or commercial sex acts which were the product of force, fraud, or coercion. Human trafficking is more than just a crime; it is literally the buying and selling of individuals. When an individual under the age of 18 provides sexual services in exchange for anything of value, human trafficking has occurred regardless of whether force, fraud, or coercion were used to effectuate the sex acts.
The collaborative efforts of lawmakers, law enforcement agencies, government agencies, victim service providers, and other interested stakeholders have made Texas a national leader in anti-trafficking efforts. These efforts have helped produce preventive strategies, identify victims, raise awareness, increase education, provide victim services, and prosecute offenders, and increase data collection and intelligence-sharing.
Members of this Task Force and other anti-trafficking organizations have been a part of a paradigm shift within agencies, organizations, and communities including Montgomery County, Texas. The collaboration with the Houston Police Department and many other local agencies essentially becomes a force multiplier to assist with this important aspect associated with Human Trafficking. They will also continue to work with the Montgomery County Coalition against Human Trafficking as they address these investigations in our area.
Primary objectives will be to establish and sustain effective human trafficking leadership and a task force structure that will marshal the resources necessary to support the successful identification of victims of all forms of human trafficking, ensure service delivery, and allow for the investigation and prosecution of trafficking perpetrators.
Make data-driven decisions about task force activities based on a shared understanding of the prevalence, scope, and nature of human trafficking within the target geographic area.
Identify victims of all types of human trafficking through the use of coordinated training, public awareness and outreach efforts, and trauma-informed screening and interview techniques.
Conduct proactive investigations of sex trafficking and labor trafficking with the goal of successful prosecution of human trafficking cases at the state or federal level.
Ensure that a comprehensive array of services are readily available to meet the individualized needs
Additionally, "Our mission in Montgomery County will be targeting those areas and venues associated with Human Trafficking including but not limited to, illicit massage parlors, Back Page and Craigslist ads associated with prostitution, Hotels and other areas that may knowingly or unknowingly allow Human Trafficking to take place within its venues."
District Attorney Brett Ligon shared, "Sheriff Rand Henderson is demonstrating great leadership in taking steps to investigate human trafficking in Montgomery County. His decision to join HTRA will be paramount to our success in this area and our ability to rescue both child and adult victims of trafficking and in the prosecution of those offenders. We are proud to stand behind the Sheriff's efforts and commitment to these victims."
If you know someone who is a victim or are aware of a potential human trafficking issue, contact the Montgomery County Sheriff's Office Organized Crime Unit at 936-538-3299 or the National Human Trafficking Resource Center at 1-888-373-7888.
Source: Tyler Dunman, Assistant District Attorney, Chief, Special Crimes Bureau, Montgomery County District Attorney's Office