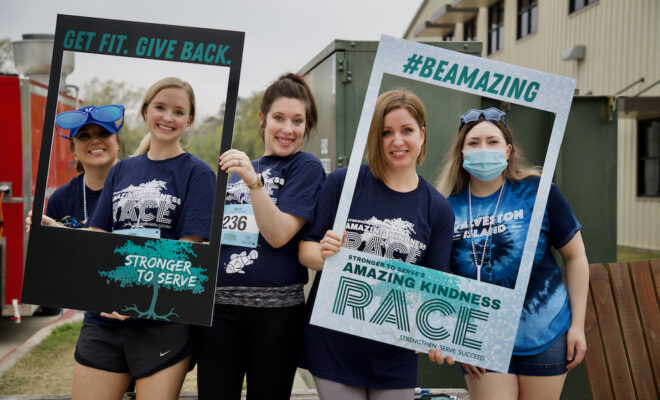 Photo by Rod Prado, Hello Woodlands
Events
Stronger to Serve's Amazing Kindness Race brings together Community and Local Nonprofits
By |
The Amazing Kindness Race, organized by Stronger to Serve, was held on Saturday, March 27, 2021 at the Southern Star Brewing Company. The individual chip-timed 5K and relay-style team race allowed participants to race through fitness and service challenges put on by local providers and nonprofits. The annual event supports local nonprofit Stronger to Serve in its mission to inspire kids to develop into strong, compassionate leaders.
13 Fitness and Service Challenges were a part of the team relay race (and participating nonprofits) including:
Filling hygiene bags with Community Assistance Center
Assembling breakfast bags with Meals on Wheels of Montgomery County
Folding a fitted sheet to spread awareness about YES to YOUTH shelters
Stuffing snack bags for hungry preschoolers in Montgomery County with Kids' Meals
Making adoption bags with Operation Pets Alive.
Playing a trivia game about hunger and food insecurity in our county with Montgomery County Food Bank
Making enrichment treats for dogs and rolling a barrel like a bear with Bears, Etc
"Build Your Own Workout" bingo card with Fitness Project
Playing a game of Superfight with The Adventure Begins Comics, Games, & More
Hula hooping
Hopper ball track
Climbing wall
5K at the end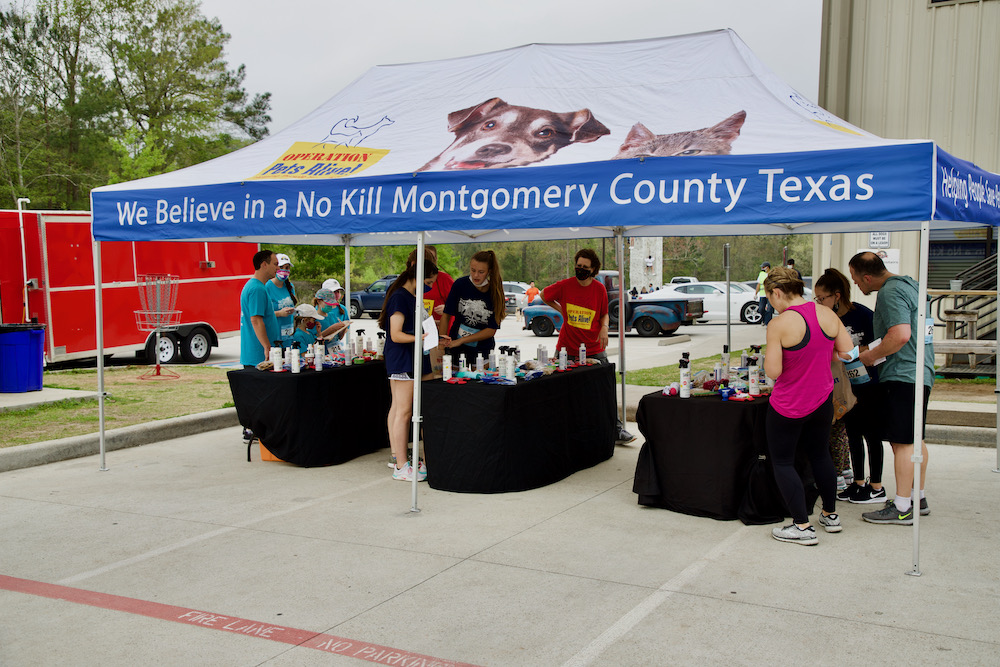 The Top Teams of the race were STARS, Team Champions, and Megan Squared. The Top finishers in the Individual 5K for Overall Male was Tony Urbanelli from Houston and Overall Female was Nicole Wicmandy from Spring. The Top Masters were male winner John Slate from Conroe and female winner Sharon Morin from Houston. 0-39 winners were Keith Mackrell from Tomball and Jalyn Bailey from Magnolia.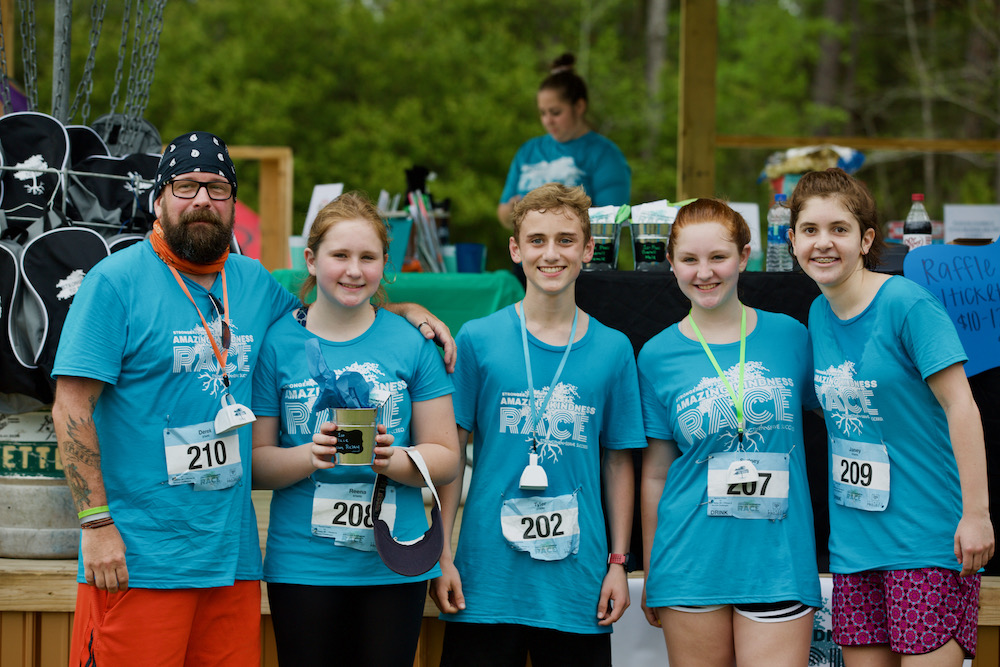 View more photos from the event on the Hello Woodlands Facebook album here.
"Many were unaware of the need for Montgomery County Food Bank within their own neighborhoods, so I hope they'll become involved in some way after learning about what we do and who we serve." – Montgomery County Food Bank

"We gained possible new volunteers and folks who didn't know about our organization."

"Lots of people becoming aware of our organization was so great!"

Quotes from Participating Local Nonprofit Organizations
Sponsors of the Amazing Kindness Race were Presenting Sponsor Southern Star Brewing Co., Silver Level Sponsors Woodforest National Bank and Magnolia Aquatic Club, and Bronze Level Sponsors The Young Learners, Cox Martial Arts, Conroe Fire Fighters Association, and Fitness Project.
The Virtual Amazing Kindness Race 5K & Kindness Challenge continues until April 4 as Stronger to Serve aims to complete 1550 miles and 500 acts of kindness nationwide. Learn more at http://bit.ly/AmazingKindnessRace
Be part of the 2022 race! Register at a Super Early Bird rate until April 4, 2021 at https://runsignup.com/Race/TX/Conroe/STSAKR.
Interested in getting on the list for 2022 sponsorships? Email Teri Schmidt at teri@strongertoserve.org.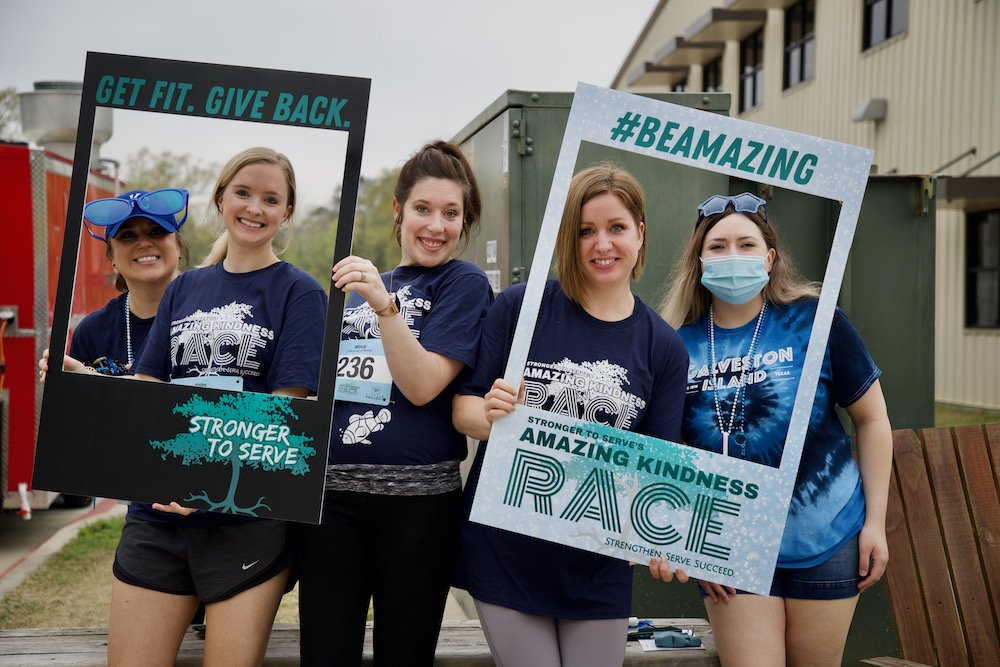 Stronger to Serve is a 501(c)3 nonprofit that develops strong, compassionate leaders by inspiring kids and adults to get active physically and in service to their community. Their activities provide kids and adults the opportunity to strengthen their bodies, minds, and hearts to set them up for life success. Learn more about their family volunteering events and our RunKind running club at www.strongertoserve.org