Business
The Woodlands Area Chamber of Commerce Adds Virtual Component to EOC, Announces Speakers
By |
THE WOODLANDS, TX – The Woodlands Area Chamber of Commerce announces a virtual option available for persons who would like to attend the conference from the comfort of their office or home. This year the conference also includes an impressive line-up of speakers who will provide valuable local, regional, and national economic insights.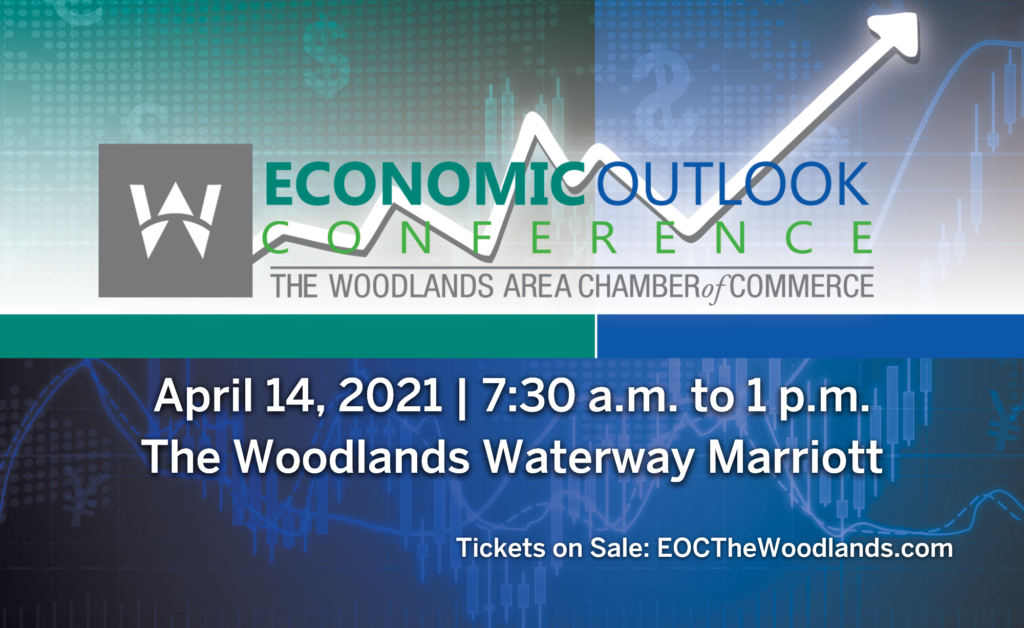 There will be two Keynote speakers:
Fred F Caldwell, President & Chief Executive Officer, Caldwell Companies, is to give the Morning Keynote.
Mitchell Percival, Sr. Solutions Engineer at T-Mobile, is to give the Lunch Keynote.
Community Update will be provided by:
Gil P. Staley, CEO, The Woodlands Area Economic Development Partnership.
Gordy Bunch, Chairman, The Woodlands Township.
Three speakers will provide Regional Updates:
Jim Carman, President-Houston Region, The Howard Hughes Corporation.
Daniel Signorelli, President, and CEO, The Signorelli Company.
Christi Craddick, Chairman, Texas Railroad Commissioner.
The National Update will be given by U.S. Congressman Kevin Brady, United States House of Representatives Serving the 8th District of Texas, and Robert S. Kaplan, President & CEO, Federal Reserve Bank of Dallas, will deliver the Economy Update.
This year the conference has an exciting addition; a Port Panel which will include discussions on the economic impact of this past year and future outlooks. Panelists will include speakers from regional ports:
Phyllis Saathoff, Executive Director/ CEO, Port of Freeport.
Roger Guenther, Executive Director, Port of Houston.
Sadé Chick, Director of Corporate Affairs, Port of Beaumont.
Gil P. Staley, CEO of The Woodlands Area Economic Development Partnership and the Community Update Speaker of this year's Economic Outlook Conference said, "We are looking forward to the 2021 Economic Outlook Conference and a chance to connect with our business leaders in a safe environment. Attendees consistently say that the conference is engaging, highly informative, and offers excellent networking opportunities. As we have done over the last several years, we will deliver our annual workforce survey results to our major employers. This report has proven to be one of the top economic indicators for our area. Anyone with business ties in our community should be compelled to attend this highly-rated conference."
The attendee's safety is a top priority and CDC required COVID-19 Guidelines will be strictly in place at this year's event.
The Conference would not be made possible without our generous sponsors including Presenting Sponsors: Kean Miller LLP and Petroleum Wholesale LP. Sponsorship opportunities are still available for active Chamber Members including Presenting Underwriter, Platinum, Gold, Silver, and Bronze sponsorships.
"Kean Miller is proud to be the co-presenting sponsor of this exciting marque event in the Woodlands," Kean Miller, Co-Presenting Sponsor of this year's Economic Outlook Conference, said.
"The EOC has been one of the premier business events in The Woodlands for 35 years, giving attendees an excellent forecast of what is happening and what is to come, not only in the Woodlands and Montgomery County, but in the greater Houston region, and Texas. As a large regional firm with offices and attorneys in the Woodlands, partnering with the Woodlands Chamber as a co-sponsor of this event was a natural fit for Kean Miller," said Eric Thiergood, Partner, Kean Miller LLP.
The 35th Annual Economic Outlook Conference will be held on Wednesday, April 14, 2021, at The Woodlands Waterway Marriott Hotel and Convention Center from 7:30 am to 1:00 pm.
Tickets are available at eocthewoodlands.com and are $169 for Chamber members and $199 for non-members. Virtual tickets are $99 and will be available on March 1, 2021.
For More Information contact Margo McZeal, Director of Government Affairs at margo.mczeal@woodlandschamber.org.