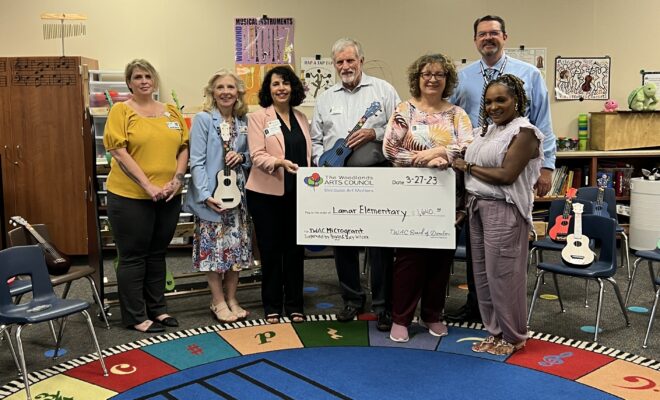 Art & Culture
The Woodlands Arts Council Microgrant Program Makes A Big Impact on Montgomery County
By |
THE WOODLANDS, TX – On a Monday morning in March, The Woodlands Arts Council, a 501(c)3 non-profit, was welcomed to Conroe ISD's Lamar Elementary School to visit the music classroom of Anne Kobitter.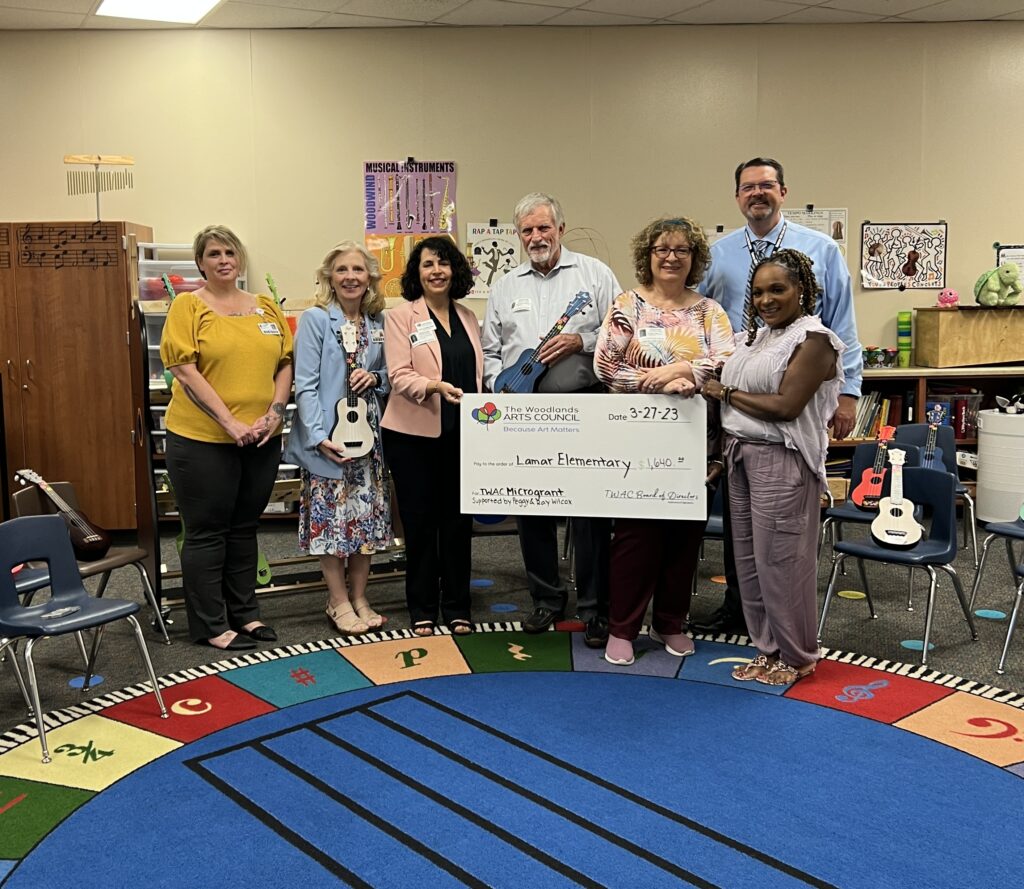 Anne Kobitter applied to The Woodlands Arts Council Dr. David Gottlieb Education Microgrant Program, requesting $1,640 dollars in funding to purchase additional ukuleles and a classroom storage cart for the instruments. On Giving Tuesday, Peggy & Ray Wilcox championed the ukulele project by donating the entirety of the funds needed to cover her request.
The Wilcox's joined in on the fun in March, taking a seat at the back of the classroom happily strumming along. Also present was CISD Coordinator of Fine Arts Dr. Robert Horton, who said, "This grant program has been an unbelievable gift to our teachers! Conroe ISD teachers have been able to access professional learning and acquire specialized classroom supplies that enhance their great teaching. The Woodlands Arts Council's support of the arts in our community is unparalleled, and we could not be more grateful for this grant program." After posing for a quick big-check presentation, fourth graders filed in and took their seats for 45 minutes of exercises that emphasized strumming, finger placement on the frets, and playing along to nursery rhymes and rock songs.
Most children do not have access to a string instrument program until intermediate school, but Mrs. Kobitter has successfully fundraised here and at her previous school in Florida to establish this program. One of the many Microgrants awarded last year, The Woodlands Arts Council has visited a number of schools to see projects like this one at work throughout the spring semester.
At Moorhead Jr. High, the request also came in for musical instruments but with a twist. They needed funds for electric orchestra instruments and technical support equipment. Entergy generously donated half of the needed funds for their full request, helping support the incredible privilege of bridging the ever-shortening gap between technology and the arts.
At Hailey Elementary, a mask-making project moved The Woodlands Arts Council's Executive Director so personally that she donated the full amount to support this incredible endeavor at her own children's alma mater.
In addition to the Dr. David Gottlieb Microgrant for educators, The Woodlands Arts Council also provides an Artist Microgrant for independent artists in Montgomery County. Three artists' projects were funded this year, including a community mural by Vickie McMillian-Hayes. The mural was set up in Masterpiece Mania! at Fidelity Investments The Woodlands Waterway Arts Festival April 12-14, 2023, and patrons contributed to it all weekend long. The unveiling of the mural will occur at The Woodlands Mall on June 26, 2023, at The Spotlight Gallery near the carousel at 10 AM.
"It has been phenomenal to see the growth of our microgrant program over the past two years, and we look forward to seeing the long-term impact of these projects on our community over the years," said Jenny Carattini-Wright, The Woodlands Arts Council Executive Director.
In total, The Woodlands Arts Council gave away $50,000 in microgrant funding in the 2022-2023 fiscal year. For a full list of awarded projects, please visit: www.thewoodlandsartscouncil.org/p/programs/microgrants/microgrant-recipients.
The next round of microgrant funding opens on September 5, 2023. To sign up for updates and reminders, please visit: www.thewoodlandsartscouncil.org/p/programs/microgrants.
The Woodlands Arts Council provides regional, cultural, and educational enrichment opportunities that encourage, support and promote the visual and performing arts in our community. From the award-winning Woodlands Waterway Arts Festival to public art installations and the year-round community and educational outreach programs of Because Art Matters, the council has one primary goal….making our community better … Because Art Matters!