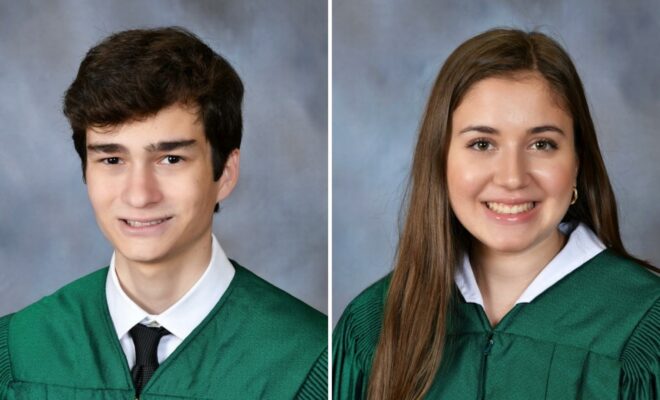 Lifestyle
The Woodlands Christian Academy Announces Valedictorian and Salutatorian for Class of 2022
By |
THE WOODLANDS, TX – On May 9, 2022, The Woodlands Christian Academy announced the Valedictorian and Salutatorian, Dominic Spahr and Serafina Cianflone, for the Class of 2022. Dominic was named a Commended Student by the National Merit Scholarship Program and will attend The University of Texas at Austin – Cockrell School of Engineering Honors Program. Serafina will attend ivy league — The Wharton School of the University of Pennsylvania.
The Class of 2022 earned a record-breaking $11,621,740 in merit-based scholarship dollars, averaging $182,000 per student. The class includes three National Merit Commended Students and 16 athletes who are committed to continue their athletic careers on the collegiate level.
Woodlands Christian will host its annual Baccalaureate service with worship and a special message of faith to the senior class on Thursday, May 12. This service is a year-end tradition at most Christian educational institutions. For TWCA, it is used as not only a send-off for the graduating class, but also offers an opportunity to "charge" the current junior class with shining his/her "light of leadership" on campus as they take their place as seniors in the fall. The Commencement ceremony will take place the following day, Friday, May 13, at 6:30 p.m. at Crossroads Baptist Church.
Woodlands Christian offers a rigorous academic program with faith integrated in the curriculum and co-curricular activities, providing students with a distinct educational experience unlike any other. College preparation starts in 8th grade and SAT/ACT test prep in 9th-11th grade. One hundred percent of graduating seniors are admitted to colleges or universities. Woodlands Christian is now enrolling grades PreK – 12th for the 2022-2023 school year. For more information visit twca.net.