Lifestyle
The Woodlands Christian Academy Holds 1st Annual Color Run
By |
THE WOODLANDS, TX – On Saturday, February 9, 2019, The Woodlands Christian Academy (TWCA) held its 1st annual community wide Color Run, sponsored by Hunter Family Orthodontics, with proceeds benefiting the school's athletic programs.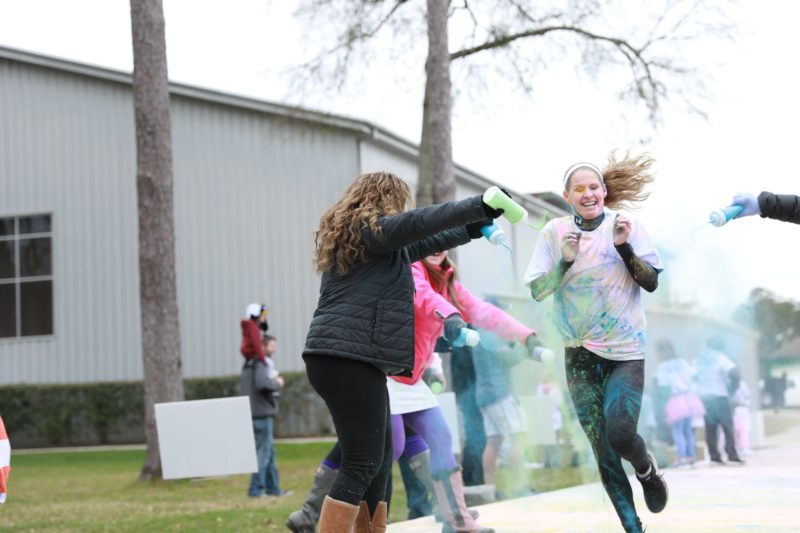 TWCA Head of School, Julie Ambler, welcomed the more than 250 runners to the school's 40-acre campus, before introducing U.S. Congressman Kevin Brady. "The Woodlands Christian Academy is a remarkable channel for educating our young people and helping them reach their highest potential," said Brady. "To be able to be a part of this run that supports so many important activities here at the school is a big honor."
Growing in popularity, a Color Run is a family-friendly activity that leaves participants doused in a rainbow of colored powder. In their efforts to support TWCA athletics and fine arts initiatives, and support school spirit and good sportsmanship, the Warrior Boosters designed the event to reach beyond the school community.
"We wanted to offer a way for families throughout our great community to get out and enjoy exercise together," said Booster President, Amy Torres. She continued, "we are incredibly grateful to Scott Young, DDS, Nicole and Will Murphy, and Zoner's Pizza, Wings & Waffles for their sponsorship and continued support of TWCA."
The Woodlands Christian Academy is a PreK – 12th grade college preparatory school that integrates learning with biblical faith and challenges students to reach their highest potential – spiritually, academically, physically and socially. For more information visit twca.net.