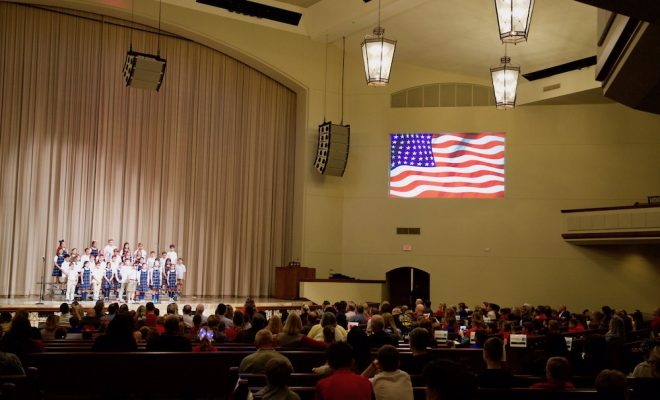 Photography by Rod Prado, Hello Woodlands
Events
The Woodlands Methodist School Salute to Veterans
By |
The Woodlands Methodist School (TWMS) held their annual Veterans Salute on November 11, 2019.
View the photos taken at the event by Rod Prado of Hello Woodlands on our Facebook page here.
Veterans from the Senior Adult Ministry at The Woodlands United Methodist Church (TWUMC) and Veteran family members and friends of students, Preschool through 8th grade, gathered with TWMS students and family members for a special lunch in the school gym. The 5th graders created unique posters that honored Veterans and lined the wall in the gym. Kindergarten through 4th grade made cards for all the Veterans thanking them for their service.
After lunch, Veterans, students and families enjoyed America, My Home, a Patriotic Musical Presentation led by music teacher, Erin Reeves, in TWUMC sanctuary. The musical presentation was performed by 4th graders. Narrators shared American history and students sang The Stars and Stripes Forever along with The Star-Spangled Banner, Texas, Our Texas, America the Beautiful and several more. TWMS Head of School, Ken West, shared, "It is a great day to be able to honor the men and women who have served in the Armed Forces and spend the day with the Veterans that attended our lunch and Patriotic Musical Presentation."
The Woodlands Methodist School, Toddlers through 8th grade, provides a joyful, Christian education through which children develop a lifelong love of learning, pursue excellence, and positively impact the world. Classrooms with low student-to-teacher ratios are filled with hands-on learning experiences, creating a dynamic, Christian learning environment that meets the needs of each student at his or her developmental level with high academic success. Everyday classroom experiences are interpreted in ways consistent with the Bible and Christian values. Students of all faiths are welcome. For more information on The Woodlands Methodist School, visit twmschool.org and to schedule a tour, call 281-822-8220 or email admission@twumc.org.