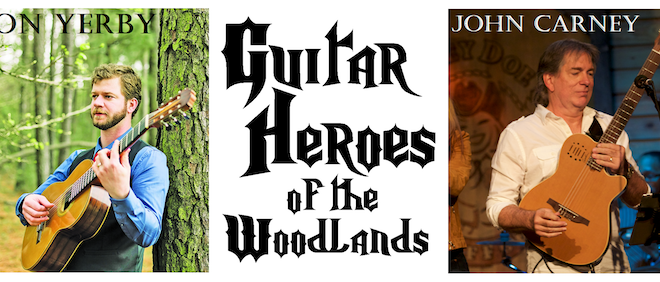 Music
The Woodlands Symphony to present Guitar Heroes
By |
THE WOODLANDS, TX –  The Woodlands Symphony Orchestra will present a "cross-genre" experience with Guitar Heroes for their grand finale concert on Sunday, April 22 at 7:00 p.m. at The Woodlands United Methodist Church, located at 2200 Lake Woodlands Drive in The Woodlands. Tickets are available at online and at the door.
Under the artistic direction of Darryl Bayer, the evening will be orchestrated with a variety of segments that follow a heroic theme, dominant in the creation of compositions throughout time. The first half of the program opens with the distinct trumpet calls to Summon the Heroes by John Williams followed by Beethoven's epic Symphony #3 also called his Eroica Symphony. After intermission, two "homegrown" guitar players take the stage. Jon Yerby will perform Vivaldi's Lute concerto with The Woodlands Symphony and then will team up with John Carney to perform a tribute to Carlos Santana. Darryl Bayer notes that: "this symphony orchestra must continue to evolve with the times, still performing the classics but in order to bring in the next generation of musicians and audience with continue to present cross-over-concerts that blends symphony with rock music, movie scores and video game soundtracks."
GUITAR HEROES is a star-studded who's who of musicians from The Woodlands and surrounding communities. First, the Woodlands Symphony and the Woodlands Area Youth Symphony, two multi-generational-culturally diverse symphonies are on stage at the same time conducted by Dr. Clifton Evans. With over 75 musicians in number their members range from local junior high, high school, home school, private school and Lone Star College students to professional musicians, music teachers and community members that work for local law firms, hospitals, accounting agencies and churches.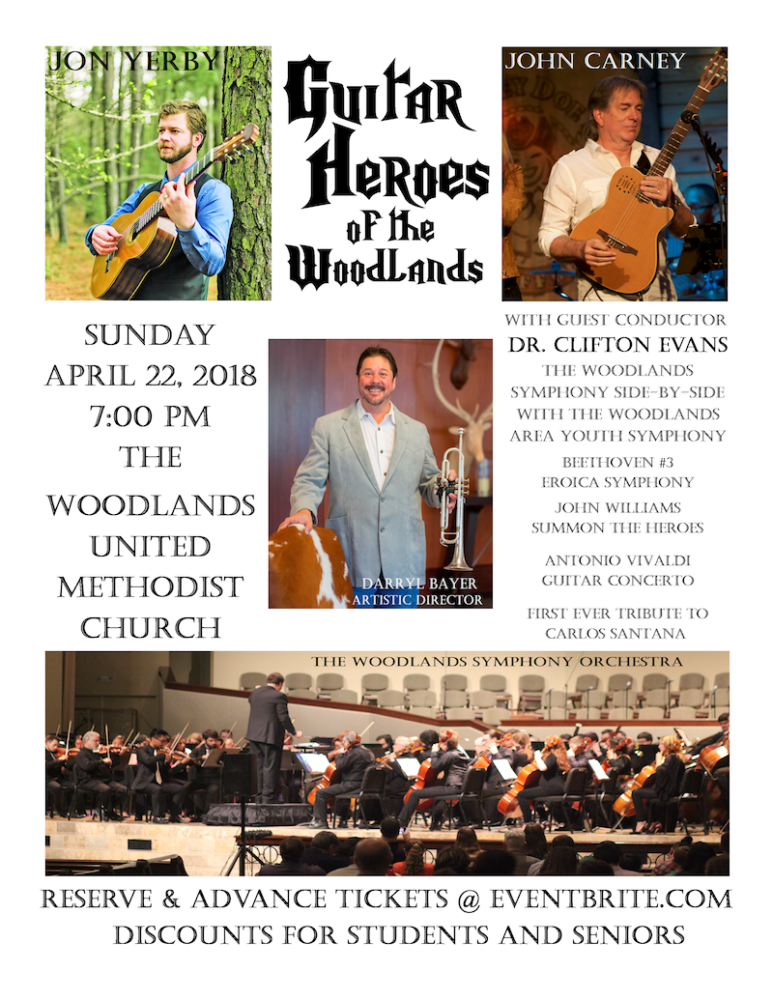 Darryl Bayer, Artistic Director has lived in The Woodlands since 1992 coming to join the faculty of the John Cooper School. The Woodlands has kept Darryl busy for 26 years creating music programs such as the WSO and WAYS, the Woodlands Concert Band, the Woodlands Jazz Project and continues to assist private schools and colleges to grow new ensembles.
Guitar soloist Dr. Yerby graduated from The John Cooper School in 2000 and now holds degrees in Classical Guitar Performance from The University of Texas at Austin (B.M.), New England Conservatory (M.M.), and Florida State University (D.M.A). An acclaimed recitalist and chamber musician, Jon has performed with the Utah Opera and tours annually throughout the United States and Europe. Most recently, Jon was invited as a US representative to perform and teach at the ICPNA Guitar Festival in Lima, Peru. He has also served as a guest artist at the University of Wittenberg-Halle in Leipzig, Germany. As an educator, Jon has taught workshops and masterclasses at Berklee College of Music, Bridgewater State College, Connecticut Guitar Society, Aguado Concert Series, Loudoun County Public Schools, Troy State University, Brigham Young University, University of Utah, and Utah Valley University, among many others. He currently serves on the board of the American String Teachers Association and is the coordinator for the guitar programs at Utah Valley University, the Gifted Music School, and the University of Utah. As President of Utah Classical Guitar, a non-profit organization founded in 1981, Jon brings world class classical guitar concerts, outreach, and music education to the Utah community. Jon also collaborates with dance artist Alexandra Bradshaw Yerby as the duo 7&1, creating original pieces featuring contemporary dance with live guitar.
John Carney is a guitar legend of The Woodlands, teaching literally thousands of young guitar players in a "music cottage" behind his home in Timber Ridge/Timber Lakes. John's playing and teaching includes Country, Rock, R & B, Blues, Latin Jazz and Classical.  In addition to playing in Panama, New Mexico, and Texas, John has performed in Atlantic City, Cancun, Orlando, New Orleans, and most recently a tour to Europe. John is a featured artist each year Boquete, Panama for the Boquete Jazz and Blues Festival. John has been the opening act for Bo Diddley, Styx, Little Richard, Clint Black, and backed such legendary artists as Joe Cocker and Percy Sledge.  In 1991 John became lead guitarist for the "Big Otis Show Band" and spent the following 8 years playing beside many of the best musicians in Houston.
For more information regarding The Woodlands Symphony, The Woodlands Area Youth Symphony and how to audition for next season can be found at www.WoodlandsSymphony.org or on their Facebook page.