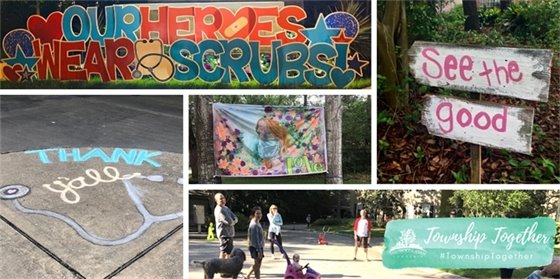 Photo Credit: The Woodlands Township
News
The Woodlands Township COVID-19 Update – May 14
By |
The Woodlands Township shared the following COVID-19 updates on Thursday, May 14.
Township to hold Special Board of Directors Meeting Tonight
The Woodlands Township Board of Directors will hold a Special Board of Directors Meeting via videoconference on Thursday, May 14, 2020, with a scheduled time to begin at 6 p.m. Central Daylight Time. The meeting can be viewed live online at https://www.thewoodlandstownship-tx.gov/778/Meeting-Videos.
Mobile Testing Sites
Multiple mobile testing sites are available in Creekside Park and Bear Branch Park this week. Please view the press release for more detailed information including locations, dates, times and more.
Montgomery County COVID-19 Case Count
Montgomery County Public Health District, in conjunction with Montgomery County Office of Homeland Security and Emergency Management, is saddened to confirm the 18th death related to COVID-19 in Montgomery County. He was a man in his 50s, who resided in Conroe. We offer our condolences to his family at this time.
The number of ACTIVE cases of COVID-19 has increased to 483 today. That number includes 57 hospitalizations. 272 people have fully recovered. The number of total positive cases has increased 15 since yesterday to 773. With increased testing in Montgomery County, a rise in positive cases is expected.
Montgomery County Office of Emergency Management updates a dashboard for the cases here: https://coronavirus-response-moco.hub.arcgis.com/.
Details on individual cases can be found here: https://mcphd-tx.org/coronavirus-covid-19/confirmed-cases/.
Montgomery County will have a mobile COVID-19 Testing Site tomorrow, May 15th from 9 a.m. to 6 p.m. at the Tamina Park Community Building, 19500 Main Street Rd. Conroe, TX 77385. No registration is needed. See informational flyer for more information.
Harris County COVID-19 Case Count
As of May 14, 2020 (4 p.m.), Harris County Public Health (HCPH) has 3,640 positive cases (1,391 active cases). HCPH is also confirming that 2,165 of its patients have recovered. There have been 84 total deaths of COVID-19 in Harris County. None of these numbers include the City of Houston. A full description of the numbers can be found here: https://tinyurl.com/tzymvk5

Cases by zip code in Harris County can be found here by clicking on areas of the map.

The Village of Creekside Park is located in two zip codes: 77375 and 77389 and these also include Magnolia, Augusta Pines/Auburn Lakes/West Rayford Road in northwest Harris County. Today, Harris County is reporting zip code 77375 has 62 cases and 77389 has 44 cases.
The Township's Coronavirus page
The Woodlands Township's special COVID-19 information page can be found at www.thewoodlandstownship-tx.gov/covid19. This page features Montgomery and Harris county Hubs, community resources and updated COVID-19 news from the Federal Government and the CDC. This page also includes the latest news from The Township, updates from partner agencies, social distancing strategies, important links, frequently asked questions, live Twitter feeds and more.
Read the full update at https://www.thewoodlandstownship-tx.gov/civicalerts.aspx?AID=3056
Source: The Woodlands Township