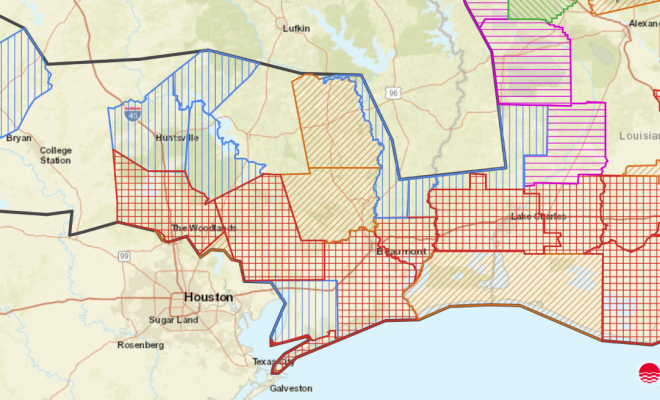 Photo Credit: The Woodlands Township
News
The Woodlands Township experiences widespread power outage; water safe to drink
By |
THE WOODLANDS, TEXAS (August 27, 2020) – Residents of The Woodlands are experiencing a widespread power outage. Entergy has reported extensive outages in the South Montgomery County area resulting from load balance problems attributed to Hurricane Laura. As of 1:40 p.m., there was not an estimated time for power to be restored.

The Woodlands Water Agency states that the household water system of The Woodlands Water Agency is equipped with backup generators. Even without power, the water delivery system remains operational in most circumstances. The water is safe to use and drink. Please note, the phone system at The Woodlands Water Agency is not operational. Customers with urgent water service issues are asked to contact the answering service, which is being monitored, at 281-537-4376. Please visit their website for more information at www.woodlandswater.org.

For the latest updates regarding the power outage, please visit the Entergy website at www.entergy-texas.com and sign up for their alerts.

ENTERGY OUTAGE MAP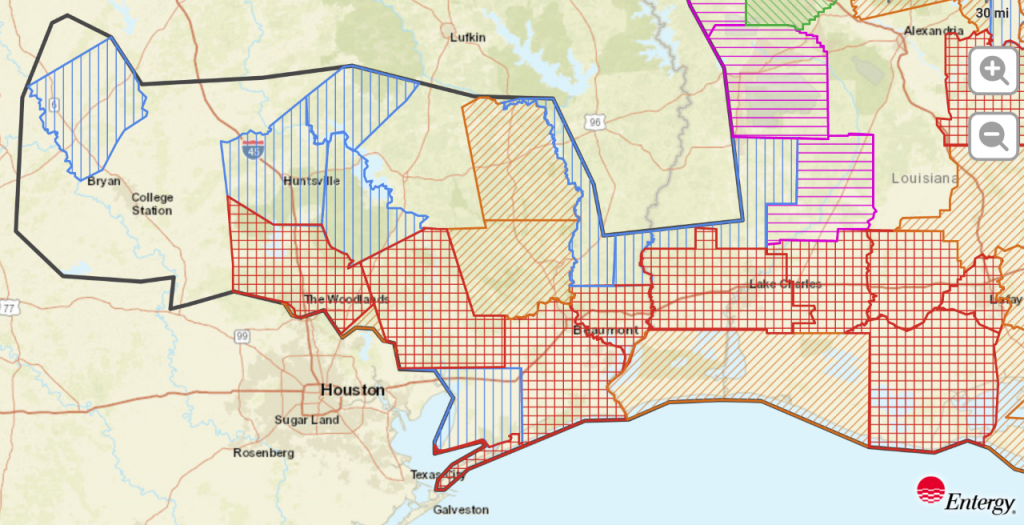 Updates from the Montgomery County Office of Homeland Security and Emergency Management:
Just received an update from Entergy Texas. The current transmission line issue that has caused our power outages has been located and is in the process of repairs. When this gets done tonight we should be good to go according to them. The power plant in Sabine Pass that was evacuated is back fully staffed and is in the process of firing up. Both of these things will help our situation. As we type this many sectors are coming online. Please be patient these linemen and crews are working around the clock.
5:15pm Update:Entergy Update: rolling outages are expected for the next 3 days. Mainly in the heat of the day when the demand is high and the grid becomes unbalanced. Residents are urged to prepare for additional outages for the next few days and prepare. Some areas of our county are starting to see power coming back online. This takes time to do so safely and in a balanced way to avoid damaging the grid.
We have established a hub for information: https://moco.maps.arcgis.com/apps/opsdashboard/index.html#/07edf306b95744628567c96417b199f0
3:10 pm update: At this time the power outages continue to spread. Entergy Texas customers in Conroe, Willis, The Woodlands, Spring, New Caney, and Porter are all out at this time. If you are a current Entergy customer please help by conserving energy at this time. We are told this is not a power generation issue but has to do with the amount of available transmission capacity within the grid that is left unaffected by Hurricane Laura. If the remaining systems are overloaded the entire system goes down. Which is why the brown outs are occurring. We do not know at this time when they are expected to restore power.
Update: Power outages are spreading to additional areas across Montgomery County. Please remember to treat all flashing red lights as a four way stop. If the lights are completely out treat the intersection as a four way stop. Entergy Texas is working on restoring the grid but the load is larger than the transmission capabilities that were left unaffected by the hurricane. If you have power please conserve energy as best you can do it will help reduce the load.
Update: Working with the President and CEO of ENTERGY. The power outage in South Montgomery County is due to brownouts that are necessary to protect the integrity of the unaffected power transmission line. If this line were to fail — all of Texas ENTERGY customers would be without power. The brownouts will take place until integrity is restored. This is due to widespread power outages related to Hurricane Laura in deep East Texas. We are currently working on gathering more information but at this time we do not have an estimated time for power to be fully restored. Please treat all flashing red lights as four way stops. If a signal is completely out please also treat it as a four way stop.
Original: Our office is aware of a large power outage that is effecting a majority of The Woodlands area. We are currently working with our Entergy and local partners to gather more information and receive an estimated time for power to be fully restored.
Sources: The Woodlands Township, Montgomery County Office of Homeland Security and Emergency Management