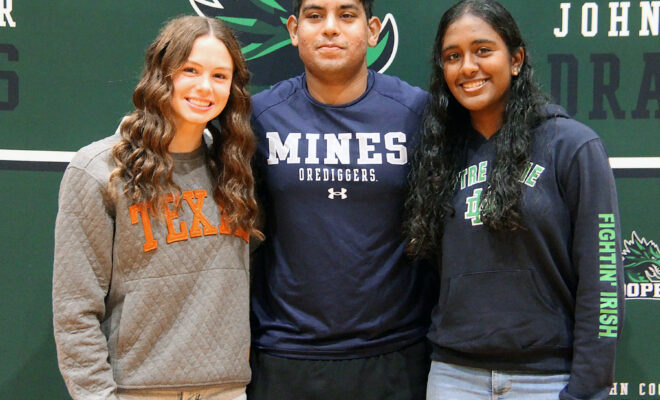 News
Three Cooper Athletes Commit to Compete at College Level at November Signing Day
By |
THE WOODLANDS, TX – The John Cooper School Athletic Department held a signing ceremony on Wednesday, November 8 in the Dunlap Gymnasium to recognize three senior athletes who will be competing at the college level in the fall of 2024. Parents, faculty, coaches and teammates joined Athletic Director John Hoye to honor the student athletes who will be competing in baseball, diving, and fencing.
"Congratulations to these athletes who have all worked hard while at Cooper. We join them in celebrating their successes," Hoye said. "We wish them all the very best and look forward to following their college athletic careers."
Neil Mallik will play baseball at the Colorado School of Mines, Golden Colo. Morgan Robson will dive for the University of Texas at Austin, Austin, TX. Felicity Sebastian will join the fencing team at the University of Notre Dame in South Bend, IN.
The John Cooper School is a PK-12 independent, college preparatory day school that has been serving The Woodlands and greater Houston area since 1988.
For more information, visit www.johncooper.org.