Photo Credit: Spring Fire Department
News
Three First Responder Agencies Receive Hundreds of Smoke Alarms
By |
Spring, TX – Representatives from the Insurance Council of Texas (ICT) donated hundreds of smoke alarms to three local first responder agencies on October 3, 2019.
Spring Fire Chief Scott Seifert, Atascocita Assistant Fire Chief Sean Richardson and Montgomery County Fire Marshall Jimmy Williams accepted the donation.
"These donations are a blessing for families in our communities," said Seifert. "For all of us this means the ability to replace non-functioning smoke alarms or add additional smoke alarms in homes that are without."
Watch the video below:
Since the launch of the department's smoke alarm check-up program last fall, Spring Firefighters have installed over 650 smoke alarms in Spring homes. "Simply put, smoke alarms save lives," added Seifert.
"ICT has provided life-saving smoke alarms to Texas fire departments for nearly 15 years," said ICT spokesperson Mark Hanna. "We've distributed tens of thousands of smoke alarms to more than 50 Texas cities. This program has saved the lives of several Texans."
Spring residents who wish to have a Spring Fire Department firefighter check their smoke detector can go to SpringFD.org/smokealarm to schedule a smoke alarm check-up.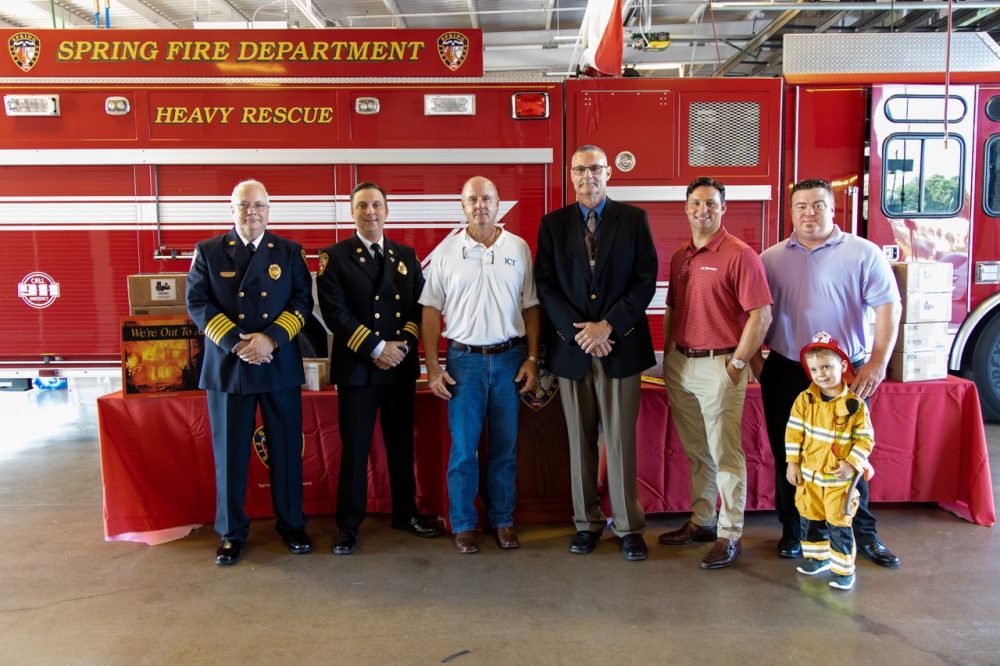 The Insurance Council of Texas (ICT) also shared a release (below) on the donation:
When there only seconds to react to a home fire, smoke detectors are key in protecting life and property. Though it may be 100 degrees outside, as we enter the Fall and Holiday Season, our focus turns to Fire Prevention Week recognized annually the first week of October. During the week of October 6, fire prevention week promotes awareness of fire safety.
In 2017, 19,000 structure fires resulted in 82 fatalities in Texas alone. With over two-thirds of fire related deaths taking place in homes with no working smoke alarms, it's critical to take steps toward eliminating those statistics. This year, ICT, in partnership with insurance industry partners First Alert, Travelers Insurance, State Farm Insurance, Hochheim Prairie and the Association of Fire & Casualty Companies in Texas, will donate over 2,500 smoke alarms to 36 Texas fire departments.
Since 2005, ICT's We're Out to Alarm Texas program has distributed more than 25,000 smoke alarms across the state. News conferences with Spring and Fresno fire departments [were] held on October 2 followed by a news conference at Southlake fire department on October 3. Firefighters, Travelers and State Farm agents alongside ICT representatives will discuss fire safety as well as how to request a smoke alarm installation. Firefighters install these smoke alarms in homes where they work with homeowners to point out possible fire hazards.
Texans are urged to recognize fire prevention week by taking steps to protect themselves, their family and property from fire; installing smoke alarms is a good first step. For more information on the program or resources including cities that are receiving smoke alarms click here to be directed to ICT's Media Central page.
The Insurance Council of Texas is the largest state insurance trade association in the country consisting of approximately 400 property and casualty insurers writing business in Texas. For more information, see our website insurancecouncil.org, follow us on Facebook and Twitter for up to date news and information.
Source: Tracee Evans, Spring Fire Department