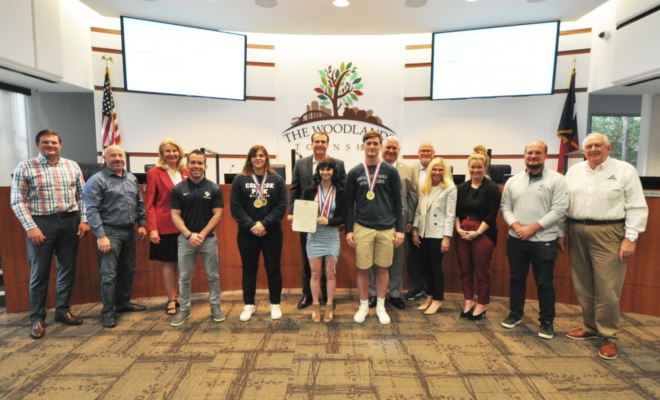 Photo Credit: The Woodands Township
News
Township Board proclaims College Park HS Wrestling Champions Day and TWHS Track Team Day
By |
The Woodlands Township Board of Directors held its regular meeting on Thursday, May 20, 2021, at The Woodlands Township Town Hall, 2801 Technology Forest Boulevard in The Woodlands, Texas.
Before addressing regular business items, the Board of Directors issued two proclamations.
Olivia Degeorgio, Brittyn Corbishley and Jonathan Wertz, of The Woodlands College Park High School, were honored as State Champions and The Woodlands College Park High School Wrestling Champions Day in The Woodlands, Texas. Olivia Degeorgio won the State Championship for the second time by defeating a competitor from Morton Ranch High School and she was ranked sixteenth in the nation with a season record of 20-0. Brittyn Corbishley, 20-0 on the season, won the State Championship for the second time by defeating a competitor from Tompkins High School, finishing her high school career as a four-time state medalist and four time All-American. Jonathan Wertz, a State Champion and three-time State medalist with a season record of 24-0, defeating a competitor from Plano West High School.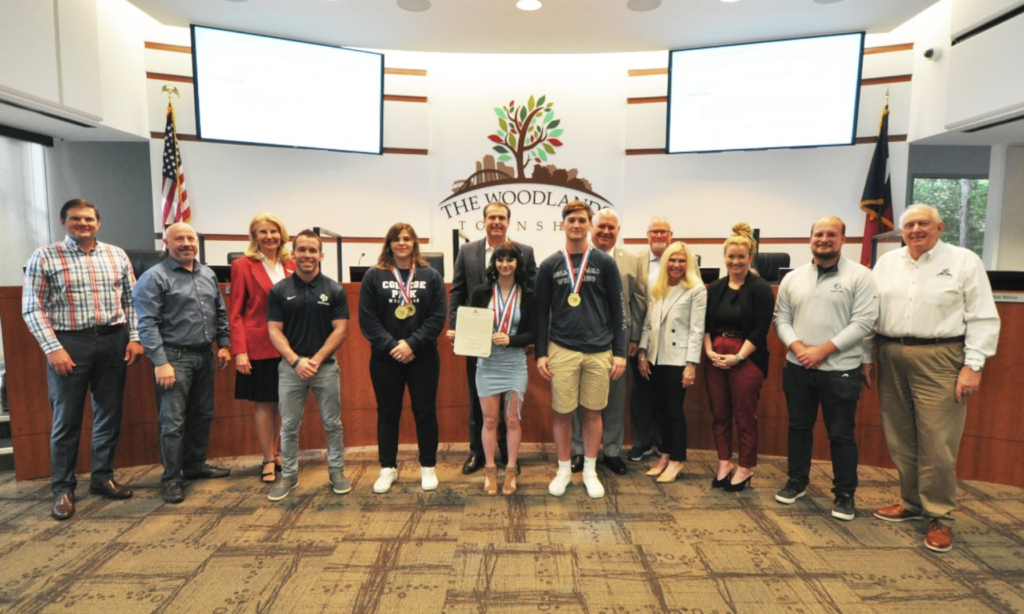 The Board of Directors also recognized Aidan Johnson, Connor Washington, Marcus Scott II and Jay Henshaw, members of The Woodlands College Park High School Track and Field Team, for winning two gold medals at the recent UIL State Track and Field Championships in Austin, Texas, and proclaimed May 20, 2021, as The Woodlands High School Track Team Day. Connor Washington blistered his way to a gold finish in the Class 6A 200-meter race with a time of 20.39. The Cavaliers' 4×400-meter relay team of Aidan Johnson, Marcus Scott, Jay Henshaw and anchor Connor Washington took first with a time of 3:13.37 and the third-fastest high school time ever.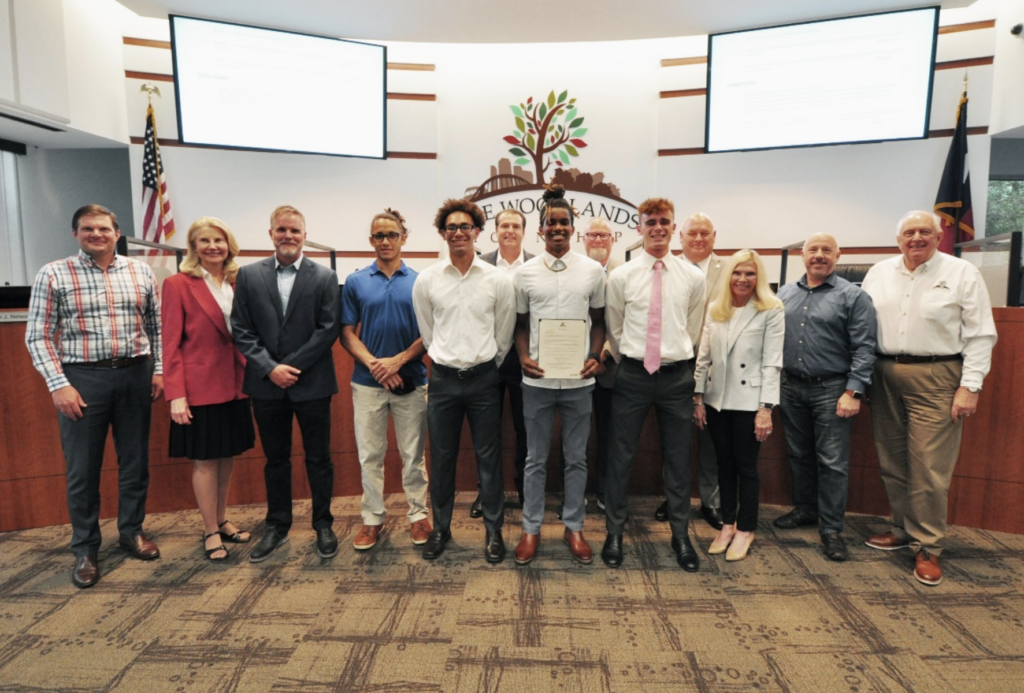 The Board of Directors took the following actions on the Consent Agenda:
Received Administrative Reports from Township department.
Approved an Electric Easement for CenterPoint Energy in The Woodlands Creekside Park West.
Awarded a bid for 2021-2024 Transportation Facilities Heating, Ventilation and Air Conditioning Services.
Approved a Second Amendment to Service Agreement – Security Guard Services Park and Ride Facilities.
Approved a legal services contract renewal with The Strong Firm.
Approved the engagement of attorneys to serve as bond counsel and outside legal counsel on special district matters for the Township and the approval and execution of an Agreement in connection therewith, as well as adoption of Resolution No. 009-21, approving Contingent Fee Contract for Legal Services.
Approved the Fountains at Waterway Square song programming.
Approved Order No. 007-21, Amending Order No. 015-15, Establishing a Records Management Program.
The Board of Directors discussed the following matters on the Regular Agenda:
Chairman Gordy Bunch provided a COVID-19 Update for Montgomery and Harris County, stating that the Township will follow Governor Abbott's orders regarding mask mandate restrictions, with the exception of Township Trolleys and Park and Ride Services, which fall under federal mandates due to the partial federal funding of these services.
Discussed the Montgomery Central Appraisal District election process.
Please stay connected to The Woodlands Township through many communications channels. Learn more and sign up at www.thewoodlandstownship-tx.gov/stayinformed. Follow the Township's official Facebook page at https://www.facebook.com/thewoodlandstownship.
For more information on The Woodlands Township, or to view the meeting in its entirety, please visit www.thewoodlandstownship-tx.gov, or call 281-210-3800.
Source: The Woodlands Township