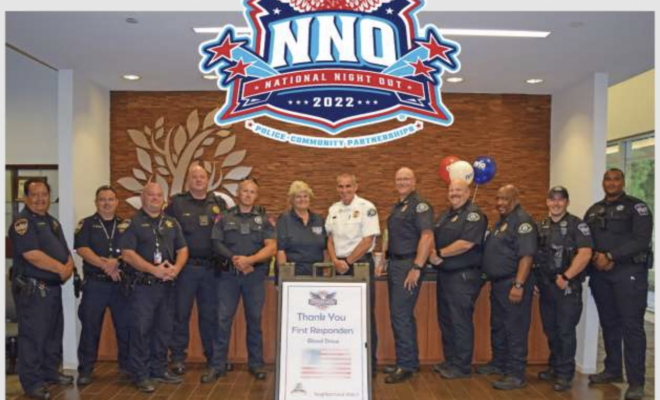 Events
Township Salutes First Responders with National Night Out Blood Drive
By |
THE WOODLANDS, TX – The Woodlands Township Neighborhood Watch will host a blood drive to honor first responders on Thursday, August 11, 2022, from 10 a.m. to 2:30 p.m., at The Woodlands Township, 2801 Technology Forest Blvd, The Woodlands, TX 77381. The National Night Out Salute to First Responders Blood Drive is part of the annual National Night Out campaign for 2022.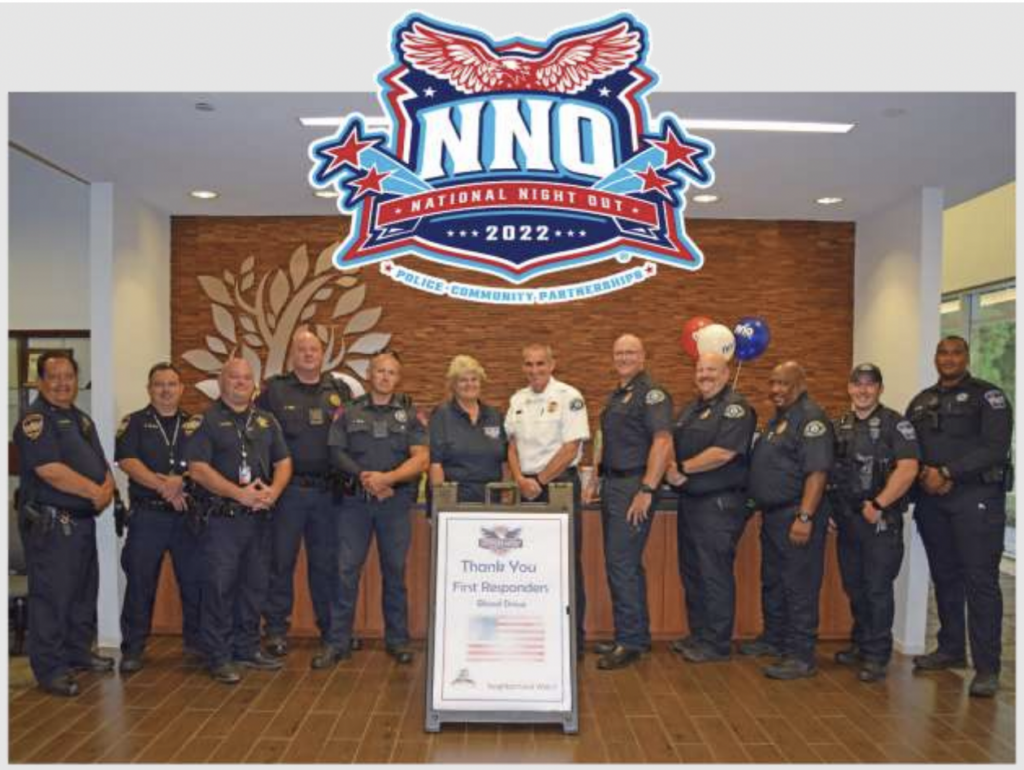 The public is invited to donate blood to show their support for first responders, and those interested in donating should enter the Township building at the Board Chambers entrance. Cupcakes and refreshments will be served at 11 a.m.
According to the Gulf Coast Regional Blood Center basics, about one in seven people entering a hospital need blood, and every two seconds someone needs a blood transfusion. So, what can you do? Donate. Save up to three lives with each donation! Blood can be broken down into three components, and each one saves lives:
Red blood cells are used to treat cancer, surgery and trauma patients.
Plasma is often needed to replace fluids in burn and trauma patients.
Platelets help cancer and bone marrow transplant patients recover.
Gulf Coast Regional Blood Center needs 1,000 donations every day of the year to serve patients in our community. More information, including a link to make an appointment for this blood drive, is available on the Township website.
You will also have a chance to learn about The Woodlands Township Neighborhood Watch, pick up crime prevention information, register to host a National Night Out party, be entered into a prize drawing and receive a promotional item from Gulf Coast Regional Blood Center.
For more information, please contact The Woodlands Township Neighborhood Watch at 281-210-3800 or email neighbor@thewoodlandstownship-tx.gov. Please follow us on Facebook at www.facebook.com/TownshipNeighborhoodWatch.