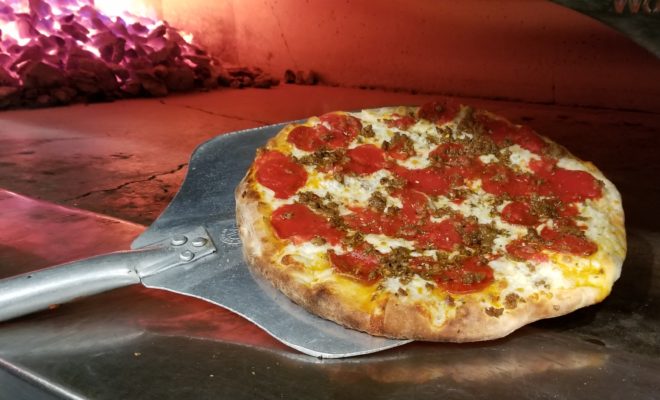 Food & Drink
Vero Italian Kitchen serving Coal-Fired Pizza, Pastas, and Family Favorites
By |
Vero Italian Kitchen, with two locations – the original in Conroe and their second location in Spring, is a fast casual Italian restaurant known for their great quality and reasonably priced food served in a family friendly modern atmosphere. The menu consists of a selection of pasta, salads, dessert and coal-fired oven pizzas.
Vero Italian is owned by brothers Les and Mike Lemmons who pride themselves on bringing you perfect Italian standards like Spaghetti & Meatballs, Chicken Fettuccine Alfredo, Penne Pasta with Tomato Cream Sauce, Baked Cheese Ravioli, Chicken Parmesan and Penne Al Arrabiatta all made from scratch in house. No meal is complete at Vero without their addicting Garlic Bread sticks.
Vero is one of the few places around town that uses a coal-fired oven for their made in house dough. The coal-fired method elevates the taste of their pizzas and baked pasta dishes to a higher level. The pizzas are hand tossed and reminiscent of a Neapolitan style pie. You can create your own masterpiece or chose from Margherita, Veggie, Meat, White Pizza (extra virgin olive oil, fresh garlic, real mozzarella, and special Italian herbs) or the simplicity of The Vero (housemade pizza sauce with mozzarella).
Salads are also available including house, caesar, simple, caprese, or their signature Apple Walnut Salad with toasted walnuts, fresh sliced apples, dried cranberries, spring mix salad, gorgonzola cheese, homemade fresh balsamic. Do not miss some of the dessert options such as Tiramisu, New York style Cheesecake or a "Ooey Gooey Chocolate Chewy," a scratch made chocolate chip cookies baked in our coal oven, served with ice cream, caramel and chocolate syrup. Vero even has a variety of local, domestic and imported beers and wines.
Read the Hello Woodlands interview below with co-owners Les and Mike Lemmons:
How long have you all been in the restaurant industry?
Les: "All my life, 38 years."

Mike: "I took a 10 year hiatus from restaurants to serve my country in the Air Force, otherwise a 30 year career in restaurant business"
What can someone expect the first time at Vero?
Mike: "To be impressed with our concept from the level of service to the quality of our food coupled with an incredible value."
One of Vero's specialty is your Pizza that is done in a coal fired oven, what makes that style of cooking pizza so special?
Les: "Cooking in a coal oven is such an artisan form of cooking , and difficult to do well. it also has a unique flavor profile than any other oven. Very authentic for cooking pizzas in brick ovens."
What menu items are your crowd favorites?
"Mike: The top 3 items sold are the Fettuccini Alfredo with Chicken, Spaghetti and Meatballs, and our awesome Chicken Parmesan."
What is your personal perfect meal here, start to finish here at Vero?
Les: "I would say start with and order of bread sticks, a side of meatballs and a house salad. main course baked ziti with grilled chicken, and finish with our famous tiramisu."

Mike: "Side Caesar salad, chicken parmesan with Alfredo pasta, a glass of Mieomi Pinot Noir, and finish with our amazing homemade tiramisu."
Vero gives back to the community, what ways do you all help?
Les:  "I'm always helping our local schools and churches, with fundraisers and events."
What do you contribute to Vero's success to?
Mike:  "#1 Consistency

             #2 Consistency

             #3 Consistency"
Fast Casual and made from scratch usually don't go together, why is that important to you?
Les: "For that exact reason, the perception from a first time guest is the expectation it will be fast food quality ,  we love the Wow factor when they experience the quality of our food and how quick our amazing service is."
5 words to describe Vero Italian Kitchen?
Mike: "Real homemade ingredients, real value!"
Visit Vero Italian Italian at 1301 W. Davis St in Conroe or 20706 Kuykendahl in Spring. Learn more by visiting their website at https://www.veroitaliankitchen.com/.
Nick Rama is a food writer, contributor of Hello Woodlands, and shares his restaurant experiences on Nick's Local Eats at NicksLocalEats.com and the Q Up The Burgers Facebook page. Nick enjoys helping the small business owner, supporting his community with fundraising for food banks, and plans tasting events with locally owned mom and pop restaurants.