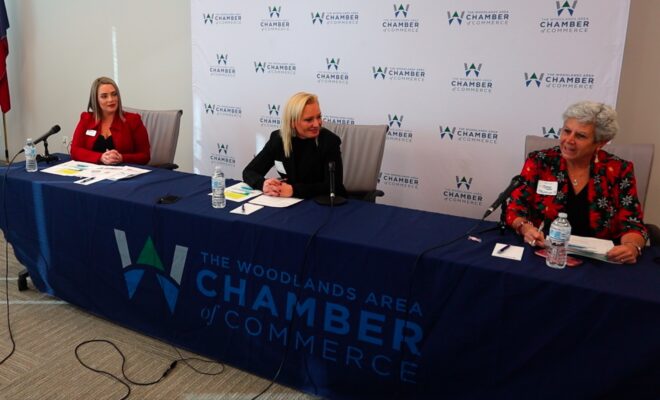 Food & Drink
VIDEO: 2021 Taste of the Town Restaurant Month
By |
The Woodlands Area Chamber of Commerce will be hosting its 35th Annual Taste of the Town 2021 in a new and different format. This year the event will take place on-site at all participating area restaurants during the entire month of January. Ticket prices are only $25.00 per person.
Watch the video below to watch the press conference held on December 3 to meet the participating restaurants and learn more about the event.
Taste of the Town Restaurant Month will run from Monday, January 4, 2021 through Sunday, January 31, 2021. Ticket holders will be able to visit participating restaurants for a "taste" of their featured menu item(s), much like the samples that were normally provided at previous Taste of The Town. Restauranteurs will feature samples of their best mouth-watering appetizers, entrees, desserts and/or drinks, and invite guests to pop in or stay for more.
Participating restaurants include Nona's Italian Grill, Pacific Yard House, Fajita Pete's, Landshark Bar & Grill, Tommy Bahama, Fogo de Chao, Russo's New York Pizzeria, RC's Pizza & Pasta, Grotto, Press Waffle Co., Citizens Grill, Tailgators Pub & Grill, Goode Co. Kitchen & Cantina, Incredible Pizza Company, Thistle Draft Shop, and Tapped Drafthouse & Kitchen.
Each establishment will have an app to scan guest tickets. Restaurants will be competing for the coveted title of "People's Choice Award" in categories including: Best Appetizer; Best Entree; Best Dessert; voted on by participating taste of the town guests.
For more information or to register as a participating restaurant, please visit www.tasteofthetown.org or contact jennifer.coyle@woodlandschamber.org .
Tickets for the event are now available via www.tasteofthetown.org and are only $25 per person (processing and handling fees apply).
For more information about The Woodlands Area Chamber of Commerce, please visit www.woodlandschamber.org or call 281-367-5777.
Source: The Woodlands Area Chamber of Commerce