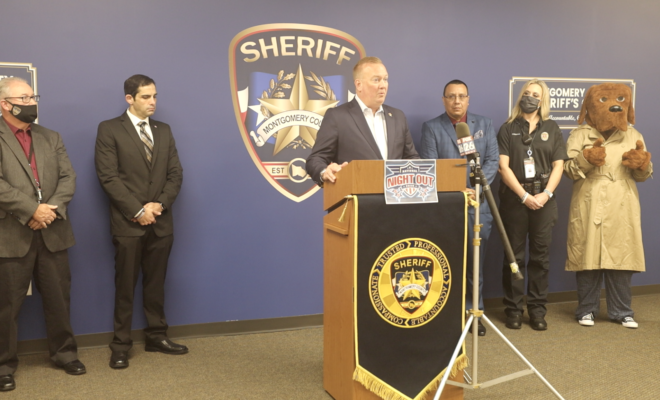 Photo by Rod Prado, Hello Woodlands
News
VIDEO: Montgomery County Sheriff's Office kicks off National Night Out
By |
On Thursday, September 10, 2020, the Montgomery County Sheriff's Office along with the Texas Crime Prevention Association held a press conference to kick off the National Night Out in Texas.
Watch the video of the press conference filmed by Rod Prado of Hello Woodlands:
This is the 37th Annual National Night Out which was created by the National Association of Town Watch (NATW) in 1984 to strength neighborhood spirit and police-commmunity partnerships. The intent is to heighten crime and drug prevention awareness, create police-community partnerships, and send a message to criminals letting them know neighborhoods are organized and fighting back.
This will be the thirteenth year Texas has had the option to hold National Night Out on the first Tuesday in August or October (Tuesday, October 6). National Night Out continues to grow in popularity throughout the State of Texas and is one of the most effective tools available to combat crime and drugs in our communities. It creates a powerful network among neighbors and empowers individual households to fight crime and drugs at the grass root level – block by block.
Interest in Neighborhood Watch, Home Security Surveys, the Citizen Law Enforcement Academies and many other Crime Prevention programs continue to increase as a result of the interactions between the officers and the citizens attending National Night Out events.
For National Night Out, some communities have hosted one large community party while other areas usually hold the traditional neighborhood black parties which are visited by the local First Responders and community leaders. The interactions have allowed for the community to visit with their First Responders in relaxed enjoyable atmosphere. Due to COVID-19, communities are asked to go back to the original of turning on their front porch light in order to light up the neighborhoods and have block parties in their individual driveways in order to social distance.
Texas has won first place for 23 out of the 24 years of award submissions for our National Night Out involvement with events held all across Texas. According to NATW, Texas had over 1500 register NNO events from Texas in 2019. Putting this into perspective, one registrant may be a city with 45 neighborhood block parties. As you can see Texas takes National Night Out very seriously.
National Night Out enhances the relationship between neighbors and law enforcement while bringing back a true sense of community. Furthermore, it provides a great opportunity to bring police and neighbors together under positive circumstances. The state of Texas and select areas celebrate the first Tuesday in October. Due to the COVID-19 pandemic, we are strongly recommending that all National Night Out 2020 areas celebrate on October 6th, the first Tuesday in October.

National Night Out
Learn more about National Night Out at https://natw.org/
Sources: Montgomery County Sheriff's Office; Texas Crime Prevention Association; Kristi Hosea, Texas National Night Out Coordinator